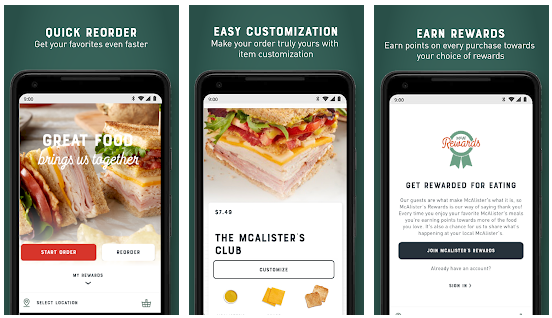 It's no wonder that more people have taken to using a mobile app to order their food nowadays. Even disregarding the ongoing state of the world, it's just more convenient. For those who are fans of classical deli foods, there's McAlister's Deli. McAlister's has recently released an app for their services on the Google Play Store, and it's time to see whether or not it lives up to the hype.
McAlister's Deli
Price: Free
Category: Lifestyle
Version: Varies by device
Developer: McAlister's Deli

Uninstall the app:
1. Go to Settings menu
2. Choose Apps or Application manager
3. Touch the app you want to remove
4. Press Uninstall.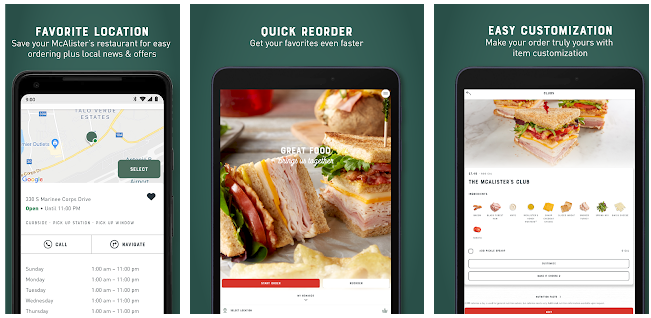 Features
The McAlister's app makes it quick and easy to get your favorite foods, from the French Dip to the Spud Max. There are some customization options to take into account for those who are a little on the picky side. And if you want to order your favorite again a few days later? There's an option for that, too. There is a "Reorder" option, so you don't have to go through and input all of your information again.
In addition, McAlister's has a reward system. You get points to redeem on foods and special treats with every purchase. These points never expire, so you can use them whenever you want, in whatever way you wish.
Pros
Aside from the convenience of not having to go in to order, you get a free cup of tea whenever you first sign up. Free food or drinks is good stuff, and offering it is smart business. Even something as little as a cup of tea goes a long way.
For the look of the app itself, it's definitely clean and crisp. The ease of navigation makes for a very smooth experience (most of the time, at least). The photos are gorgeous and sell how delicious the food is.
While the app has some issues (which we'll get to), the staff at McAlister's are excellent when it comes to customer service. If you have any issues with the app, it is easy to get in contact with them. They are sure to look into whatever issue and probably give you some coupons for your troubles.
The rewards program, while confusing at first, does have some fantastic deals. These tend to become available after purchasing a certain number of items. It doesn't take long to rack up enough points to get yourself a free treat.
Cons
Overall, the app works the way it is intended, but it's not without its issues. When adding some more food items to your basket, the app tends to slow down to the pace of a dead snail stuck in molasses. Believe it or not, you're in luck when that happens, as it is known to just crash. Some work on the more technical aspects of the app would be a great plus, improving everyone's experience.
While McAlister's is known for its delicious grub, the app doesn't really have a way to show it aside from pictures. If someone who had never eaten at McAlister's before downloaded the app to try it, they might be put off by the lack of descriptions. The lack of a full menu might put a damper on someone's day, even if their selection is good overall. There's nothing worse than craving something that's not even on their app menu!
The rewards system, while a definite plus in and of itself, falls a little flat. The app is extremely vague about where and how to use them. It turns out that you're supposed to add whatever applicable item as your desired reward, and then you can use it during the checkout process. Once you get the hang of it, it's definitely easy and convenient.
Conclusion
While this review may come off as overly negative, it isn't meant to be. The app works well when it works, which, thankfully, is most of the time. The occasional hiccup or freeze isn't a dealbreaker, as every piece of software has some sort of glitch. With good food and prices, a rewarding rewards program, and fantastic customer service, it's still worth giving the McAlister's Deli app a look. Download and install it, and give it a gander.