Microsoft Teams is a mobile app designed to improve working environments. As with most Microsoft products, you can sign in with your existing Microsoft account information. You may also choose to create a new account with an unassociated email.
After initially signing up, you're taken to a screen to enter your name, company and country information. All fields are required. This screen also provides information about admin privileges. You'll need to scroll through a few other screens before gaining access to the user interface.
Microsoft Teams
Price: Free
Category: Business, Communication
Version: Varies by device
Developer: Microsoft Corporation

Uninstall the app:
1. Go to Settings menu
2. Choose Apps or Application manager
3. Touch the app you want to remove
4. Press Uninstall.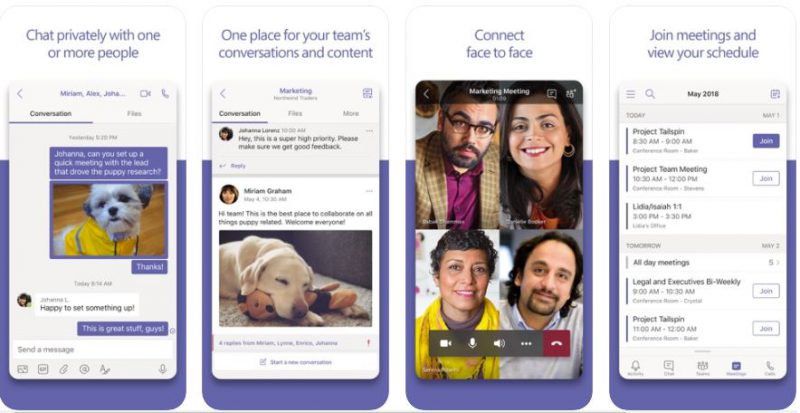 The onboarding process clearly outlines the primary features of Microsoft Teams. It is a professional communication medium built into a workspace. As one might think, it also provides for secure file sharing and networking. Once on the UI, you're encouraged to start a private chat. Several tabs are presented on the top and bottom of the UI. The 4 tabs situated on top are:

Dropdown Menu

Chat

Invite Members

Search

The bottom 5 UI tabs are:

Activity

Chat

Teams

Calls

Files

The Dropdown Menu expands upon the functionality of the main tabs. You can find information about who on your team is available, set a status message, or easily access notifications. Settings are also found here, as well as the What's New and More Apps buttons. The Dropdown Menu also provides an alternative way to Invite People.
Why Use Microsoft Teams
Microsoft Teams is meant to compliment Office 365. It is the ultimate shared workspace for every business need. Conversations and meetings help bring teams together. Features like file sharing and seamless applications improve your team's workflow. Office products like Word and Excel are built in. Microsoft Teams is set up so that you can get your work done without ever leaving the Teams UI. Since you will be in direct communication with other team members, it becomes the ideal work hub for all your needs.
Vast Array of Features
In addition to the features outlined above, Microsoft Teams is designed to be intuitive and easy to use. It's about live collaboration and file sharing. Maybe its best feature is that it enables you to connect with anyone over primary communication protocols without ever leaving the work environment. You can choose to connect one-to-one as easily as you can set up a group chat. Audio and video functions can be used independently. For group sessions, there is a screen share feature.
While the Microsoft Teams workspace is easy to use, its second layer features also make it quite comprehensive. Users can store conversations and videos to retrieve at a later date. This keeps everyone in the group up to speed. A white board supports this effort as well.
All users will feel comfortable in knowing they have enterprise grade security. The various apps used by your team can be pulled directly into the workspace. This eliminates transition times and associated brain fog. Development efforts will also benefit. Building new apps and expanding upon current ones are supported. Overall, Microsoft Teams proves to be a complete solution at every level.
Installing Microsoft Teams
Microsoft Teams is a mobile app that is fast and easy to install. Download is dependent on your device. Final size was found to use less than 160MB of storage. Most recent updates occurred this year. In terms of overall satisfaction, high praise was characteristic of its user reviews.