Have you ever wanted to get paid for using your phone? What about having access to an app that can read your network performance? Now you can get all of this in one app with Mobile Performance Meter. However, how does this app work, and does it really pay you for simply using your phone? Find out in the review below.
What Is Mobile Performance Meter?
This is a mobile app that pays you for leaving it running in the background of your phone. It monitors your network usage and records the network speed. Using this information, it can help research companies monitor website usage trends, network speeds and network demand. The app doesn't record or sell personal data. It doesn't even feature ads. All of the money that you generate comes from letting the app run in the background.
Mobile Performance Meter
Price: Free
Category: Tools
Version: Varies by device
Developer: Embee Mobile

Uninstall the app:
1. Go to Settings menu
2. Choose Apps or Application manager
3. Touch the app you want to remove
4. Press Uninstall.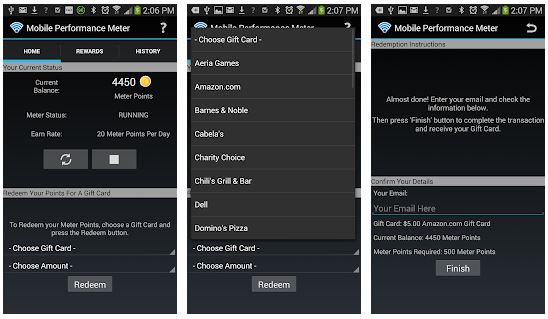 How Does the App Work?
Once you download Mobile Performance Meter, you have to create an account by clicking the Join Now button. During the sign-up process, you'll have to grant the app permissions and answer a few questions about yourself. Then, you'll start to earn Meter Points each day that you leave the app running in the background. During this time, you're supposed to just go about using your phone as normal.
Redeeming Your Meter Points
Each day, you'll earn a certain amount of Meter Points, which varies slightly between devices. In general, Mobile Performance Meter seems to pay more for being installed on newer, popular phones. However, you'll earn between 10 and 20 points per day. In some cases, the earned points are more or less.
You can redeem the points for a gift card of your choosing. Mobile Performance Meter offers a wide selection, which includes but isn't limited to:
Amazon.

Google Play.

Target.

Starbucks.

Domino's Pizza.

Walmart.

Visa.

Earn More by Participating in Surveys
Do you want to earn gift cards even faster? You can when you participate in surveys through the app. If you turn on the Survey Booster Service, you'll get a random survey from time to time. They're generally short at only about three minutes long. Answering surveys can net you extra Meter Points to be used toward a gift card.
You don't have to worry about missing a survey because each of them pops up as a notification on your phone. Just keep in mind that the surveys don't appear all of the time. It could take days before you get your first survey. Even if you don't qualify for a survey, the app still gives you points for at least trying.
Speaking of extra points, you can earn more if you invite a friend. The more friends you invite, the more points you can earn.
Give Mobile Performance Meter a Try
If you want to use your phone to make some easy money, install Mobile Performance Meter. The app really works and is a great way to earn free gift cards. Best of all, you don't have to do anything. Simply keep the app running in the background, and go about your business.
Although you only earn a few cents a day, it's still free money. In most cases, you can earn a $5 gift card every month or so. That's a free $60 a year just for using some of your phone's battery to keep this app running.