With all access to all of the best races and race events on the planet, MotorTrend: Stream Roadkill, Top Gear, and more, gives you the best of motorsports. Whether it's dirt, track, or street, you can find a race on this app. Not only that, but without cable, you can watch any race you want, any time, and anywhere. So what do you need to know about this app before you get the free-trail? Well, let's talk about the features of the app and why you, as a motorsports fan, should get the app.
MotorTrend: Stream Car Shows
Price: Free
Category: Entertainment, Sports
Version: Varies by device
Developer: Motor Trend Group LLC

Uninstall the app:
1. Go to Settings menu
2. Choose Apps or Application manager
3. Touch the app you want to remove
4. Press Uninstall.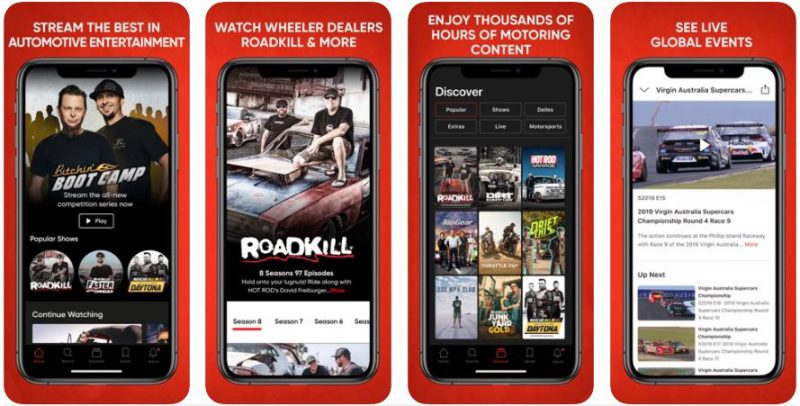 You can watch all of the hit shows, the exclusives, and all the extras with this app. Starting with NASCAR All in: Battle for Daytona is here. This is a groundbreaking limited series only on MotorTrend, and it shows what it takes to be legendary among the pros. The offer many exclusive app-related original shows such as Dirt Every Day, Faster with Finnegan, Roadkill, Fastest cars in the Dirty South, the All-New Overhaulin', and so much more. It also has thousands of hours of many popular, and probably your favorite shows, such as Diesel Brothers and FantomWorks, Bitchin' Rides, Wheeler Dealers, Graveyard Carz, and many others.
They also have a vast collection which is aptly titled, "The Ultimate Collection of Top Gear Entertainment," with hours of entertainment, including all 25 seasons of Top Gear UK, Top Gear: Extra Gear all of the seasons, Top Gear UK specials, the Best of Top Gear, and so much more motoring content from the BBC. There are even bonus episodes of some of your favorite shows, including Dirt Every Day, Texas Metal, and Roadkill extras to all of these shows, and so much more bonus content. They also have all of the Live and on-demand events in motorsports like 24 hours of le Mans, along with great documentaries, motorsports films, and so much more.
You can do so much with this app too, and you can download it on many different devices. You can get it on devices such as your television, Roku, iPad, iPhone, Android, and computer, along with any other devices you can install apps on. You can also watch anywhere and anytime. You can watch at home or on the go, and you can multi-stream across all of your available platforms. This means that you can start on your television, and when you leave, you can switch to your phone, watch it in the store, and when you get back home, instantly send it back to your television so you can keep watching where your phone left off, and you can also do this will all of your app-enabled devices.
Why Should You Install the Mobile App?
With so many motorsports to choose from out there, this one has all you need, in one convenient place. You can watch all of the motorsports you want from the comfort of your home, your car, your work, or anywhere you want. You can watch anytime and anywhere with a subscription fee. Not only that, but normal apps only offer a 7-day free trial, and this app offers a whole 14 days to try the product to see if you like it. You can be the center of attention with your friends with thousands of hours of television without a cable connection to all of the best motorsports shows, sports, and events on one channel. So when you get the free trial, try it out and see if you like it, and make the decision to subscribe once you have a chance to see what all they offer. Don't miss out on all the motorsports fun, and get the app today.