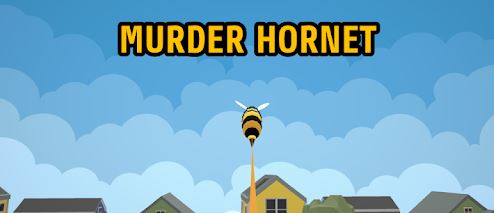 Murder Hornet is a unique digital game experience that focuses on creating something unlike anything else out there on the App Store. You might have been browsing through various gaming categories on the App Store when you stumbled across Murder Hornet, or perhaps you are hearing about it for the first time within this review. Regardless of how you came across this game, we can definitely promise that the unique game experience deserves to be talked about at least a little bit.
The existing user feedback that is currently available on the App Store is relatively mixed. There are a lot of users that absolutely love this game, but there are also quite a few others that absolutely hate it. There is only a very small percentage of people that find themselves in the middle of these two battlegrounds. With that being said, we should probably now shift our focus on some of the internal game elements and features so that you can determine your own feelings about this game.

Murder Hornet!
Price: Free
Category: Action
Version: Varies by device
Developer: Lion Studios

Uninstall the app:
1. Go to Settings menu
2. Choose Apps or Application manager
3. Touch the app you want to remove
4. Press Uninstall.
New players can start out their gaming experience by controlling a murdering hornet and stinging cartoon-themed characters. Your goal is to eliminate your targeted characters as quickly as possible, and this can often be completed on the very first attempt. To be completely honest, there really isn't a whole lot to this game, but it could still be fairly entertaining for some people.
You can upgrade your beehive and unlock additional features, but many users have complained about the constant in-game advertising and other similar experiences that make it more challenging to appreciate the Murder Hornet app. On the positive side of things, it does appear that this Murder Hornet app receives regular updates, but there is no way to determine how long the developers will support this app.
You might start out by enjoying Murder Hornet, but after some time of repeating the same steps over and over, you will probably get bored and consider moving on to some other activity on your mobile device. With that being said, it probably is still worth a try. You can download and install Murder Hornet by visiting the App Store and following the installation steps to get started.
Features

A Basic In-Game Progression System does Exist (Upgrades, Unlocks, and More)

An Extremely Simple Control System can be used when Controlling the Murder Hornet

Pros

Extremely Simple Concept with Decent Controls

Relatively Positive Feedback on the App Store

Cons

This Game has too many Advertisements

Conclusion
This Murder Hornet digital game is probably not going to be fun for every single person that reads this review, but some of our readers will certainly be interested in learning more about this App. Some people might find it to be fun, entertaining, and exciting. Other users might find it to be extremely boring and bland.
By reading this review, there is a chance that you already know how you feel about it. If you are still unsure, then maybe it is time for you to download it and try it out for yourself. Here is a fair warning, be prepared for a lot of advertisements.