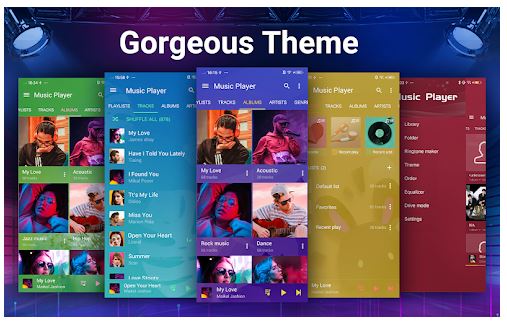 If you are looking to customize your listening experience, then check out the mobile app Music Player: Bass Booster and Free Music. With convenient organization and an appealing aesthetic, users may browse all of their music and audio tracks from one convenient location. The app comes with powerful customization tools, like the equalizer and volume controls. It includes presets for the average user and several toggles for more expertly versed users. Also, the app features a safe driving mode and an overtly fun ringtone maker.
Music Player – Bass Booster & Free Music
Price: Free
Category: Music & Audio
Version: Varies by device
Developer: Mobile_V5

Uninstall the app:
1. Go to Settings menu
2. Choose Apps or Application manager
3. Touch the app you want to remove
4. Press Uninstall.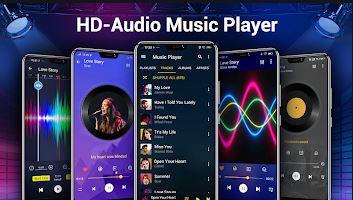 When the app is first installed and opened, it will sync all music and audio tracks from the user's device and library with their permission. This can be incredibly convenient for those with tracks and songs scattered across their devices and accounts. The main screen looks similar to most music media user interfaces, though it may be a bit more seamless. The music and audio tracks are organized in four different swipeable menus, including tracks, albums, artists, and genres. Again, this is a fairly convenient feature and the app does so without load time. There is also a feature to create your own playlists from your music and audio library within the app.
Custom Ringtone Maker
Certainly just a fun add-on, but a seriously fun one at that! The ringtone maker allows the user to customize multiple ringtones from the music and audio library within the app. Users simply select a track and choose their preferred sound bite. Even those with little music or media editing experience will be able to navigate this easy to use feature. Two vertical lines mark the beginning and end of the audio bite and may be moved by clicking and dragging them. Then, users just click the checked arrow to make it accessible as a ringtone.
Modes and Themes
The user-friendly Music Player added two more features to increase the overall aesthetic and functionality of the app. First, the app includes a safe and easy to sue drive mode. From there, users can play from playlists or their entire library in a distraction-free screen with large buttons. Users may toggle between shuffle, repeat, and order with their music and audio tracklists. Also included are 21 free gorgeous themes for the app that may be downloaded. The basic one is a dark blue theme installed with the app. Some of the available ones include basic color changes, nature scenes, and cityscapes.
The Powerful Equalizer
The primary function of the app is the customized sound the equalizer gives to the user. Once a setting is chosen or made, all music and audio tracks will be played through those filters to give a unique sound. There are two ways to adjust the equalizer, either through presets or toggling specific values.
Average and beginner users may want to play around with the presets before diving into the technical details. The Music Player equalizer features ten presets in addition to their "normal" mode. These presets will adjust the bass, virtualizer, reverb, and sound frequencies to match the desired genre. Included genres are those like rock, folk, heavy metal, hip hop, and dance.
More experienced users will delight in the almost overwhelming customization at their fingertips. The five frequencies that can be adjusted are 60, 230, 910, 1400, and 3600 Hz. From there, the intensity of both the bass and virtualizer may be varied to the user's preferences. There is also an option to control the reverb. Settings for that range from a small room to a large hall. If this does seem overwhelming, users may choose a preset and adjust to their liking from there, rather than starting from scratch.
Exciting Volume Controls
To add a finished quality to the work, Music Player gives the user the ability to control various aspects of the sound. In addition to the overall volume being played, users may control the amplification. This can give a unique sound to the music. Users may also adjust the sound balance from both the left and right speakers.
Final Thoughts
Whether wanting to make a fun ringtone or customize your audio tracks professionally, Music Player: Bass Booster and Free Music gives a convenient interface to do so. With 21 beautiful themes and a safe driving mode, the user interface of the app is very friendly and easy to use. Install and download today to make your own customized music and audio tracks.