Have you ever wanted tax tools at your fingertips? If so, consider downloading the MyBlock mobile app to help you through the tax season. Among the many tax apps out there, few are backed by H&R Block. However, what does this app do, and is it worth the install?
If you're familiar with H&R Block, you've probably heard of its Emerald Card. If you haven't, it's a prepaid MasterCard, and you can get your tax refund loaded onto it. Doing that gives you access to your tax refund quicker, and you can use it for purchases everywhere that MasterCard is accepted.
MyBlock
Price: Free
Category: Finance
Version: Varies by device
Developer: H&R Block

Uninstall the app:
1. Go to Settings menu
2. Choose Apps or Application manager
3. Touch the app you want to remove
4. Press Uninstall.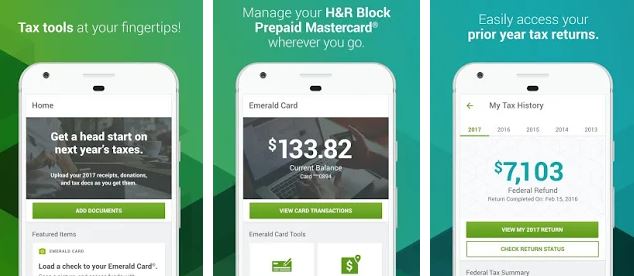 With the MyBlock app, you can easily view and manage your Emerald Card with your phone. You can view the transaction history of purchases that you've made and reload the card with money other than your tax refund. This means that you can continue using the Emerald Card long after your refund is gone.
Access Prior and Current Tax Returns
There's no point in downloading a tax app that doesn't let you view your tax returns. With the MyBlock app, you can not only view your current return but also your prior year's tax return. Having this information at your fingertips makes filing your taxes easier.
Speaking of viewing the current year's tax return, you can use this app to check on its status. No longer do you have to wait around wondering when your tax return will be received. You can easily see that information within the MyBlock app.
Find Help Filing Your Taxes
Using this app you can quickly estimate your refund. However, what about when it comes time to actually doing your taxes? The MyBlock app can help you find and schedule an appointment at an H&R Block office.
While many programs can help you file your taxes yourself, a computer program is no replacement for real help from a tax professional. For that reason, thousands of people turn to the professionals at H&R Block every year to help them file their taxes.
Upload Your Tax Documents
Do you want an easy way to save important tax documents? If so, you'll be happy to learn that you can upload tax documents to your phone using the MyBlock app. It will keep all of your documents organized by year. You'll be able to see all of your receipts, charitable donations and tax documents on the go.
Download the MyBlock App Today
There's no reason not to give the MyBlock app a try. It's completely free to download and is an official app of H&R Block. Also, it should come as no shock that people like using this app. In fact, it's been downloaded over 1 million times and has an average rating of 4.6 stars on Google Play.
The ability to view tax documents on the go and schedule an appointment at a local H&R Block office are helpful features. However, this app goes above and beyond with the ability to review your tax return and manage your Emerald Card. Additionally, it doesn't feature any ads, which only a few apps can claim nowadays