Have you ever wondered what it would be like to have a physician only a text away? Now you can stop wondering, and experience what it's like with the new medical app called MyChart. What can people do on MyChart? How can you talk to a doctor? What else do they offer for this app. Well, let's get down to business, and explain away at this fantastic technological development.
On your next doctor's appointment, ask your doctor if you can add them to your MyChart's account. From there, you will give them your information to input into their system. Once your information is added to their system, you will get to keep in touch with your physician. You can chat with them and talk to them about all of the problems you have. They also give you your lab results on the MyChart App so that you can see it before they call you about them.
MyChart
Price: Free
Category: Health & Fitness, Medical
Version: Varies by device
Developer: Epic Systems Corporation

Uninstall the app:
1. Go to Settings menu
2. Choose Apps or Application manager
3. Touch the app you want to remove
4. Press Uninstall.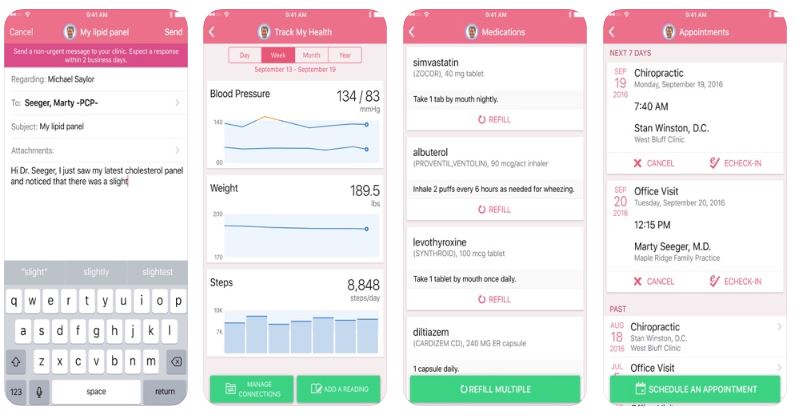 What Can You do on the MyChart App?
Well, from the app after the installation, you can keep in touch with the doctor and get your lab results directly from them. You will also be able to schedule doctor's appointments directly through the application itself. Setting appointments allows people to be able to have the freedom to choose their appointments at a time they desire, and they won't have to sit on hold or have to give all the information to make an appointment.
Another cool thing that this app allows the people to do is to be able to keep track of the medications they're taking. They have a tab button that will enable you to keep track of all the medication that you were given. Better yet, the app tells you the dosage, amount of times taken in a day, and everything that a prescription bottle gives you. Having a prescription on hand saves time and energy and allows you to show the medication you take without pictures, bottles, or any other way you could think of showing to people who need to know. It also allows people to get prescriptions quickly. Talk about a hassle-free solution to an arduous problem.
What Else Does This App do?
Well, we've covered the majority of the application's functions already, but let's dive deeper. Not only does the app allow you to use the previously mentioned methods to make life easier for people who need medications a lot, but it also does more, a lot more. This app also allows people to access their family's medical history, not just their own. You can share your medical information with your family if you choose. They cannot just give away the information. They do ask if the information is okay to share with your family. Another fantastic feature is that it can track your health information. You can keep track of your blood pressure, weight, steps, and more. It works the same way as google fit and allows you to keep track of all of this information at the touch of a button.
Conclusion
MyChart is a revolutionary app that will change the landscape of healthcare as we know it. It will make a lot of things easier to do when it pertains to doctors visits. You can now set your appointment, find out your test results, track your health information, and keep in contact with your doctor with the touch of a button. So get the app today, and make healthcare easier for you.