It's never a bad time to catch up on the news stories that you care about. With your busy schedule, it might be hard to watch your local or world news programs as they air. Thanks to the NBC News app, you can get caught up from your phone. Is this mobile app worth being your dedicated news resource? Find out in this review.
Get All of Your News in One Place
The NBC News app is designed to send important stories and breaking news to your phone. It offers in-depth reporting, exclusive stories and news alerts. Once you install it, it's easier than ever to get all of your news in one place.
NBC News: Breaking & US News
Price: Free
Category: News & Magazines
Version: Varies by device
Developer: NBC News Digital LLC

Uninstall the app:
1. Go to Settings menu
2. Choose Apps or Application manager
3. Touch the app you want to remove
4. Press Uninstall.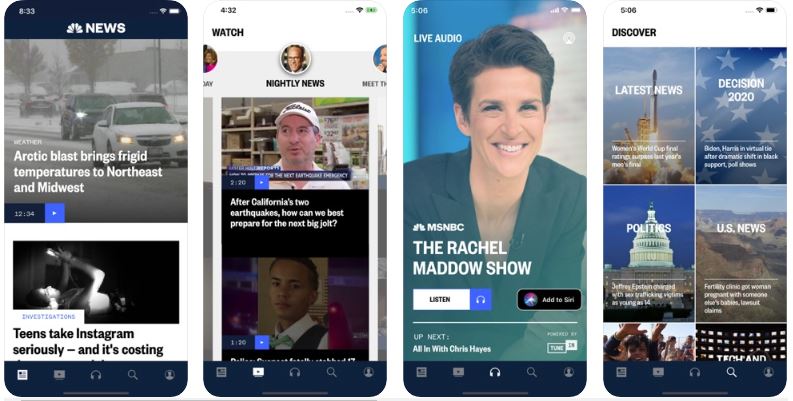 Watch and Listen to the News
When you download the NBC News app, you aren't forced to just read all of your news articles. The app takes things a bit further by allowing you to watch or listen to your favorite news programs from NBC and MSNBC. This includes popular shows like "Today," "Dateline NBC" and "NBC Nightly News."
You don't have to catch your favorite shows when they air. Instead, you can view them from your phone at any time. Do you still not have time to watch them? The app lets you listen to live audio from MSNBC as well. Even on your way to work, you can catch up on the news by simply listening to it via the app.
Learn About the Latest Stories
If you don't keep up with the latest news, the NBC News app can help you learn more about what's popular at the moment. On the Discover page of the app, you can find all of the latest news stories. By viewing and reading these articles, you can stay up to date on current events. This will give you the confidence that you need to talk to your friends or join conversations about these topics.
Cast to Your TV
Another cool feature about this news app is that it can cast videos to your TV. All you need is a Chromecast or another cast-enabled device. While watching your favorite news clips, you can stream them from your phone to your TV. It's almost as good as getting to watch the news in real time.
Free to Download and Use
Another great thing about the NBC News mobile app is that it's completely free to use. However, it has to make money somehow, which leads to the biggest problem that it has. The app is ad-supported, so you have to deal with ads from time to time. However, this is pretty commonplace with free apps.
Catch Up on Your News Now
If you're ready to get all of your news in one place and stay up to date with what's going on in the world, now is the time to get the NBC News app. It's totally free, and you only have to deal with a few annoying ads to use it. With the ability to read, watch and listen to the news, you never have to worry about being out of the loop.