The free Nike mobile app provides your own personal shopping portal to the biggest shoe and clothing brand in sports. You can select from the best of the best Nike products with personalized choices just for you including shoes, hoodies, sports bras and jackets.

There are Top Picks products categorized for women, men and kids. Plus, you can get early access to the newest products via this app. So, shopping for exciting sports products for friends & family from the top brand has never been easier.
If you find you cannot decide which shoe or clothing item to buy for your loved ones, pick up a Nike gift card so they can pick out the perfect style and color for themselves. If you sign up for a Nike membership, you receive news updates plus special product offers, such as 20 percent off discounts. Students and military personnel also receive significant savings on everyday products.
NIKE
Price: Free
Category: Popular Now, Shopping, Sports
Version: Varies by device
Developer: Nike, Inc.

Uninstall the app:
1. Go to Settings menu
2. Choose Apps or Application manager
3. Touch the app you want to remove
4. Press Uninstall.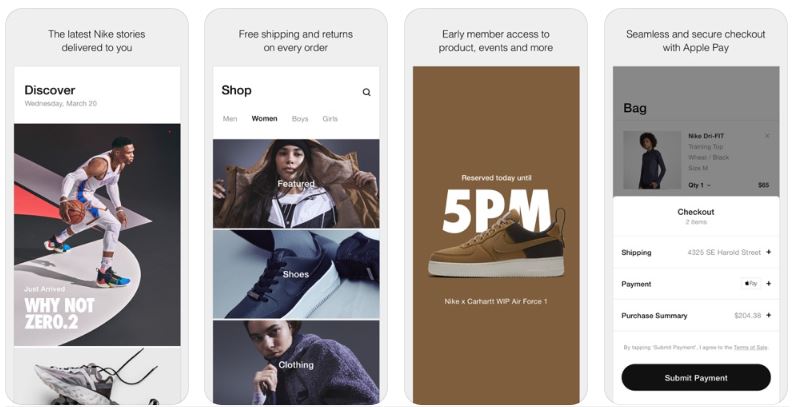 Nike App Features
Based on your preferences and purchases, the app creates a personalized and optimum shopping experience to speed up product browsing and purchases.

All purchases are shipped free and that goes for returns too.

Your activity and purchase history are stored in your personal member profile.

Returns are receipt-free.

Sign up for a NikePlus membership to gain early access to new or exclusive member products.

NikePlus members also have on-demand access to Nike experts to help you find the ideal product for your personal training goals and style.

Receive a daily customized news feed so you are always up-to-date.

Take advantage of expert coaching advice from Nike athletes, coaches and personal trainers.

As a member, you get the chance to reserve your spot early for upcoming Nike events.

The Nike app is also a great way to stay on top of the latest style trends, release of seasonal products and the latest top product picks from Nike editors.

Customers especially love the chance to see special offers and sales events before the general public plus their many generous discounts. You will even get a personal discount on your birthday!

Install the Nike App Now for the Best Bargains
The Nike shopping app receives rave reviews on Google Play Store and Apple's App Store, 4.7 stars and 4.9 stars, respectively. It provides customers with all their fitness clothing needs at great prices. Discover a new, streamlined online shopping experience with a quick download and sign-up now.

On Android devices, you need at least Android 4.x, whereas it works on any iPhone, iPad or iPod touch running iOS 11.0 and up. It is all free. There are no in-app ads or in-app purchases required other than Nike products.

Be the First to See New and Discounted Fitness Products
Shopping for all your fitness clothing needs is far easier with the Nike mobile app than trudging through general-purpose shopping portals that do not have a clue about your style or workout preferences. Plus, you have access to experts at all points in the shopping experience to get your questions answered fully and promptly.

After a quick download and install, you will soon be sharing this app with friends & family who are also fitness enthusiasts and like saving money. Everything is right there at your fingertips 24/7.