With Peacock TV, you can watch a variety of shows, movies, and more for free. There are some perks to paying into it, though, but for first-time users, try it out for free. We'll go over what benefits and features that you get with the free version of Peacock TV, then what you get when you pay into the mobile app, and finally why we think you should give Peacock TV a try.
Peacock TV
Price: Free
Category: Entertainment, Popular Now
Version: Varies by device
Developer: Peacock TV LLC

Uninstall the app:
1. Go to Settings menu
2. Choose Apps or Application manager
3. Touch the app you want to remove
4. Press Uninstall.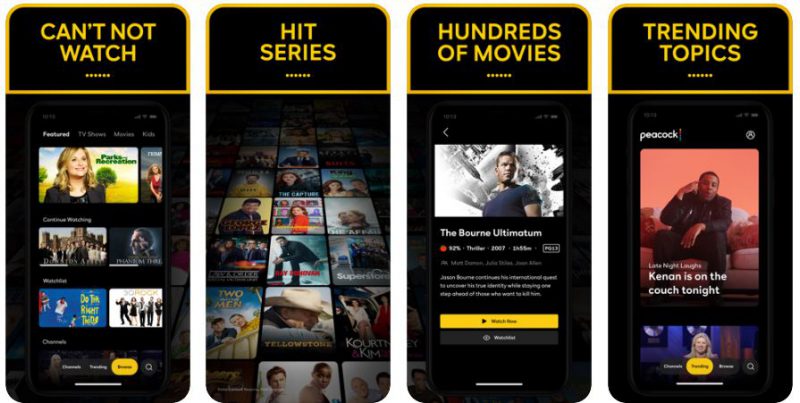 There is so much to explore with this free app, and the features are boundless. Starting with one of the better features, you will have access to most massive studio movies and television shows. This list includes DreamWorks Animation, Univeral, and more. There are also breath-taking documentaries, including Dying Laughing, Murderball, and more. The next feature is that you will have thousands of hours of television shows that are chalked full of episodes like classics, current-season, and so much more that you can explore. There are also originals that everyone in your household may like, and you can create different profiles for everyone. There is something for everyone on this app, and a lot of that is due to the Original content that Peacock produces. The app is bilingual, too, and contains a hit channel that has Spanish television shows that you can watch, as well as news, all in Spanish. They have a family channel as well, and you can watch all kid's shows and movies like old classics and newer modern shows. Peacock TV also has live sports, so you will be able to watch sports live at any time you want from your mobile devices. The sports also include the Olympics and more. You will have the ability to watch live news daily, and if you missed it, you could watch it later. You will also be able to watch all of the best news from various channels like MSNBC, E! News, CNBC, and NBC News while having all of the late-night shows, news, and pop culture news you can possibly handle. The Peacock TV has channels that satisfy your every need, like sports, movies, shows, clips, shorts, news, and more all at the push of a button that you can access, 24 hours a day, 7 days a week.
What Do You Get if You Pay to have the Peacock TV App?
You can get the all-access pass, and upgrade to the Peacock Premium services for only $4.99 a month, and watch every episode on every season, every movie, and every live sporting event you could ever hope to watch. You will have more of everything, and all at your fingertips. You can start streaming everything, including more content, more seasons, and more shows and movies. There are more of the Peacock original shows and movies, including The Capture, Intelligence, Brave New World, Lost Speedways with Dale Earnhardt Jr., and so many more to watch. You will get access to more live sports, like Soccer matches from the Premier League, and so much more to satisfy your sports cravings. You will also have 100% access to the entire Peacock Library, including the titles from the vaults from big-name companies, as well as all of the family and child entertainment that you can get your hands on. There are television shows that are broadcast every day, and with the premium services of Peacock TV, you can expect to have the Next-day streams of all of your favorites that are currently airing, along with a lot of news, and late-night shows. There is one other option as well, and that is is to upgrade to Peacock Premium Plus. The subscription is $9.99 a month, but it will be free of ads, except some shows that due to their airing rights have to put in commercials. You also get all of the above mentioned free and premium content that you already know about and with ad-free service.
Why Should You Download Peacock TV?
There is so much to watch out there in the world today. With everyone making new content on a daily basis, it's hard not to be enamored by television and movies. So where can you go to find everything you want in one place? That's right, Peacock TV has all of the shows and movies that you're looking for, and they are cheaper than a lot of other TV companies. You have the ability to watch whatever you want, including live news and sports. A database with thousands of hours of television and movies sounds amazing. So what are you waiting for, go install the app to your device today? It's free, so you can see if there is anything you like the one their app, and decide to pay, or stay at a free service.