Peapod is the original delivery service that has been doing the right thing for many years in the making. It is the predecessor to modern-day curbside, and pickup grocery shopping, as well as being the first delivery service. It offers a plethora of services, and we're going to get into every single detail of it.
Delivery
In select locations that are near the peapod distribution center, they have same-day delivery. However, that's not all. They also have next day delivery available nationwide, and further delivery dates ensure lower prices. Depending on the delivery checkout, and the delivery day, you can actually save money with discounts and deals that are only on those days. The last great feature it has is that if you know you're not going to be home on the delivery day or time, you can mark the unattended button, and they will leave your groceries at your door in their insulated Pod bag.
Peapod Delivery
Price: Free
Category: Shopping
Version: Varies by device
Developer: Peapod, LLC

Uninstall the app:
1. Go to Settings menu
2. Choose Apps or Application manager
3. Touch the app you want to remove
4. Press Uninstall.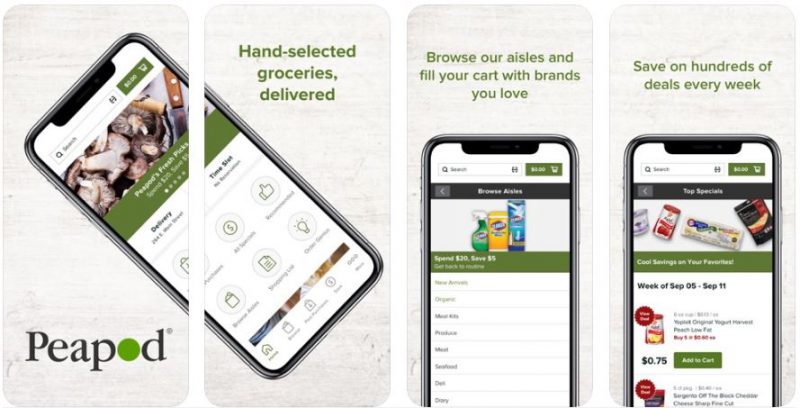 This mobile app has a vast selection of produce, products, and items that aren't easy to get in your own town. All the local delicacies all over the United States are packed in one place. If it's hard to find in the local markets in your area, then have no worry, you can more than likely find them here. The local delicacies that are hard to find anywhere are easily available online at the Peapod mobile app, and not only can you find these, but you can also find a ton of organic produce and other groceries on the app as well.
Chef's
They have personalized meals that are prepared by chefs that can be eaten the day of, or stored in the freezer or refrigerator until you are ready to consume them. On top of that, the chefs can make you a meal kit that is affordable, easy to prepare, and convenient to buy. This will ensure healthy eating and quick and easy cooking.
How to Find Products
This app has an easy to use sections or categories tab that makes it easy to find anything you need in minutes. If you want to find something in seconds, you can always use the search feature, or search for healthy options by filtering out all you need for the day's dietary intakes. This will make your shopping fast and easy and allow you the freedom to do whatever else you need to do for the day.
Other Cool Things
This app also delivers alcohol to select areas and is known for its vast selection from wine to beer and liquor to mead. Another great thing about it is that it gives you recommendations based on your most recent shopping experience. It also keeps your list so that you can order the exact same thing if you don't want to change anything in it.
Great Ways to Save
This is a great app, and it can save you tons of money in a lot of ways. The aforementioned day to day option will save you on deals, and another great thing is the majority of specials that happen and change every week. They also have personalized discounts for some of the items that you continually buy, and the final way to save, and you don't have to be a Sam's Club member to do it, is bulk buying. If you buy some items in bulk, you can actually save quite a lot of money in some of your grocery needs.
Conclusion
Everything deserves a chance, and this free to download and install app is no different. If you give it a shot, we guarantee that no other grocery store can hold a candle to our services. Not only that, but we have all of your produce at our distribution center, and the produce is selected by our staff with gloves, from our climate-controlled room, and they are delivered in our temperature-controlled trucks. Give it a shot. I guarantee you'll keep buying