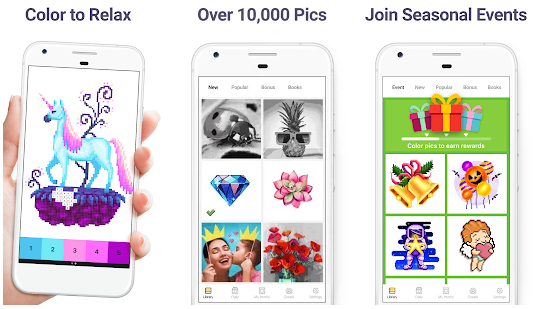 If there's one thing we need in 2020, it's stress relief. Hopping onto any app store, you'll find an endless onslaught of apps with this very purpose. Among them is Pixel Art: Color by Number.
Placed on Google Play's Editors' Choice list and sporting over 1.8 million downloads, Pixel Art offers a modern spin on a popular classic. The app claims that their color by number activities will "blow your stress away!" But does it really? Let's break down this mobile app and see if it's worth the download.
Pixel Art: Color by Number
Price: Free
Category: Puzzle
Version: Varies by device
Developer: Easybrain

Uninstall the app:
1. Go to Settings menu
2. Choose Apps or Application manager
3. Touch the app you want to remove
4. Press Uninstall.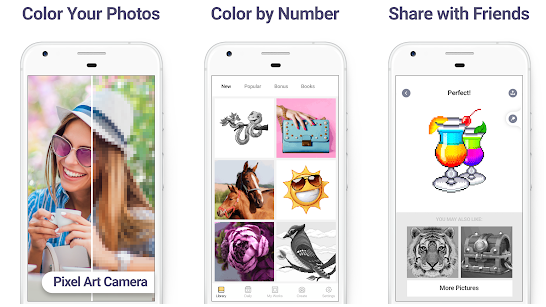 Features and Benefits
Pixel art opens to a user-friendly menu. As soon as the mobile app starts, you're presented with the first tab which holds a long doodles, drawings, photos, and 3D models you can jump right into.
Along with images, the library tab also offers themed books, some free to use and some locked as premium options. The free books feature more mundane themes like Getting Ready for Bed, Healthy Snacks, Coffee, and Succulents. The premium selections are more compelling sets like Magic, Pirates, Scary Stories, and my favorite: Stylish Cats. Don't fret, though, as if you don't want to sink money into a subscription, you can opt to simply watch an ad that unlocks access to as many stylish cats as your heart desires.
Next up, the daily tab offers a new illustration or picture to color every day. In addition, two years' worth of backlog images are available. If you want to paint the burglar stealing a painting that was released August 21, 2019, you can scroll down to that date and paint away.
The My Works tab features a library that stores completed and in-progress paintings. It allows much easier access, considering how cluttered the catalog can get.
The most compelling portion of this app is in the Create tab. Using this tool, you are able to turn any photo in your gallery into a color by number painting with the difficulty ranging from abstract to heavily detailed.
The final tab is simply the settings, which offers the free option to backup your works so that your finished coloring projects stay even if you remove the app or need to get a new phone. It also has a few tutorials available.
Upon opening the actual color by numbers game, the artist is greeted with a menu at the very bottom of the screen and the picture they are coloring above it. The menu allows the artist to select which number they want to fill in and in turn, the game highlights that number grey, which becomes beneficial when working on more complex pieces.
There are two additional features available: the magic wand and color splash. The artist is given 5 free uses of each tool and after that either each use costs the user a video ad break or the user can opt for a paid subscription that allows unlimited use of both.
The magic wand acts as a gradient tool, filling in clumps of numbers and saving the artist some time. Similarly, the color splash tool works as a color bomb that colors a small, circular portion of the painting.
The final feature to cover in this mobile app is the subscription. As stated earlier, Pixel Art's subscription removes all ads, unlocks all images on the app, and provides unlimited access to the magic wand and color splash tools.
The user is offered a 3-day free trial. After the trial finishes, the user is charged either a weekly fee of $5.49, a monthly fee of $14.99, or a yearly fee of $46.99.
Pros and Cons
Pixel Art sports more pros than cons. The interface is well designed, most of the app's more imperative features are free to use, and it is a relaxing app. However, a one-time payment would be preferable to a subscription fee that seems too steep for the extra content that is offered. In addition, a simple tool like the magic wand having a pay wall seems ludicrous considering that competitors often offer it for free.
My favorite part of this app is that most features are free to use, such as the Create tab and the option to back up your paintings, both features that could easily be blocked by a pay wall.
It is also convenient that most locked pictures and tools give the user the option to simply watch an ad instead of only having the subscription as an option, giving those strapped for cash more flexibility while still earning the app authors some income.
The best part of this mobile app is that it is relaxing. There is a reason why paint by numbers products have been around since the 1950s. They're great for stress relief, something a lot of us still need 70 years later.
The biggest con is that it uses a subscription format instead of just offering consumers a one-time fee. I think more people would be willing to pay $5.00 to access the extra tools and content rather than subscribing to the app like it's Netflix or Spotify.
In addition, this app's subscription fees cost much more than Netflix or Spotify. The steep price most likely turns off consumers, including me. Not having a subscription wouldn't be too bad in theory, as most items can be unlocked by watching an ad. But the banner ads that pop up while painting can be annoying. The only way to remove said ads is to subscribe, putting the consumer between a rock and a hard place. You either can tolerate the pop ups, or you can shell out money every month.
The biggest pet peeve that I ran into was the magic wand tool having a pay wall. In more complex pictures, there are sometimes large clumps of numbers. Without the magic wand tool, the only option is to tap every single square in that number cluster, making everything more of a chore than a relaxing pastime. A gradient tool like this one is basic and often comes free with other applications so why should it cost money in this one?
So is Pixel Art Worth It?
Overall, if you're looking for a relaxing coloring app, Pixel Art is a good one to install. While the price of subscription is too high and the app would be better suited to a one-time fee, it is everything that it claims to be. It is a color by numbers app. It has a lot of cool features and it would take months to color through just the free catalog of pictures. It is relaxing to color while watching your favorite comfort sitcom as the world burns around you. If you want to invest a lot of time into an app like this, then perhaps the subscription would be worth the price, and even if you do not want to subscribe, I'd say giving this app a download is well worth the time.