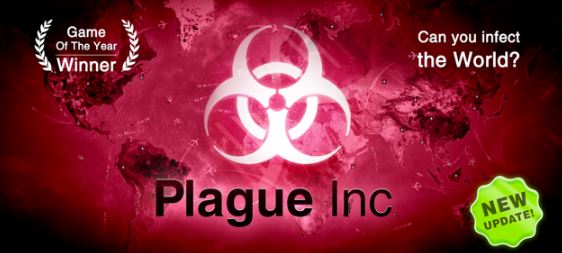 Have you ever wanted to play the villain in a video game? Few games actually let you take on that role, and Plague Inc. is one of them. Instead of playing as a bad guy, though, you're a destructive plague that's infecting the whole world. This strategy game requires you to adapt as you aim for global infection.
In this mobile app, your task is to spread a plague around the world. You start small by infecting one person: patient zero. From there, you have to develop a strategy to infect the rest of the world. Keep in mind that you have to evolve your strategy quickly as humanity adapts and tries to hinder your advance.
For example, countries might start shutting down airports as news of the plague starts to spread. This means that you have to work quickly to get your disease in as many countries as possible before they shut down their borders.
Plague Inc.
Price: Free
Category: Simulation
Version: Varies by device
Developer: 3,005,315

Uninstall the app:
1. Go to Settings menu
2. Choose Apps or Application manager
3. Touch the app you want to remove
4. Press Uninstall.

Advanced Artificial Intelligence
Plague Inc. has over 50 million downloads on Google Play as of January 2020. One reason is because of its realistic and advanced AI system. It creates a hyper-realistic outbreak management system. The AI determines how your disease will spread around the world and how worldwide governments would react to such an outbreak.
While playing the game, you can see breaking news about your disease at the top of the screen. For example, the game will tell you in real time when the Centers for Disease Control and Prevention has found patient zero. Using this information, you can change your strategy to counter the methods that the CDC will develop to stop the spread of your disease.
Updates and Leader Boards
The developers of this game want to make sure that, after you install this game, you keep coming back for more. For that reason, they're always adding new viruses to the lineup. This includes mind-controlling worms and zombie-producing viruses. These new viruses are sure to change how you try to take over the world.
Of course, half the fun of conquering the world is to boast about it to your friends. That's why Plague Inc. features a leader board system. You can fight for the top spot to see who can take over the world and who can do it the fastest.
Great Presentation
One of the best parts about this game is the presentation. There are similar games like it that you can play online for free. However, Plague Inc. works hard to create a gaming experience that feels polished. High-definition visuals take that experience to the next level.
Do You Have What It Takes to Spread Your Plague Across the World?
If you want to play the bad guy, give Plague Inc. a try. It's a unique take on mobile gaming that's easy to learn but hard to master. With the ability to create 28 save files, you can try your hand at creating a slew of diseases to spread around the world. Plague Inc. is completely free to download, which makes it a good option if you want something a little different.