There are many different online TV, Videos and Movie streaming apps in the market but none of them provide high quality features like that of Pluto TV. Pluto TV is a very useful app that is available on almost all major operating systems including Windows, iOS, and Android.
Pluto TV lets you stream over 100 different channels, movies and a lot of on demand content. You can view your favorite movies and TV shows right in the palm of your hands. If you are stuck in traffic but you don't want to miss your favorite show or listen to the news then Pluto TV has you covered. One of the best things about Pluto TV app is that it is completely free. Instead of paying heavy bills for your television subscription in this era of information technology, you should download the Pluto TV app. You don't have to pay a large amount of money to enjoy the content you want.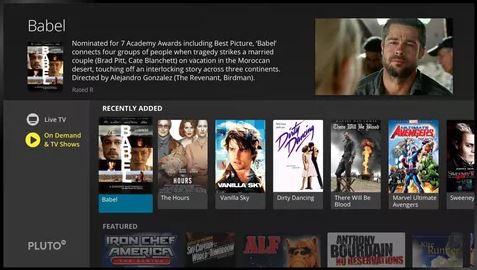 Pluto TV
Price: Free
Category: Entertainment, Video Players & Editors
Version: 3.6.16
Developer: Pluto, Inc.

Uninstall the app:
1. Go to Settings menu
2. Choose Apps or Application manager
3. Touch the app you want to remove
4. Press Uninstall.
Pluto TV is a great alternative to Traditional television and paid TV and video streaming services. Its free nature is one of its strongest points due to which thousands of people prefer to use Pluto TV instead of other paid TV streaming services.
Features and Benefits
Never miss your favorite TV show again just because you don't have access to a television set. You can find content from almost all major genres on Pluto TV.
Enjoy an on demand video with your loved ones through Pluto TV.
You can also purchase Pluto TV Smart TV application which lets you stream the content on your television sets. You can connect your Pluto TV app to smart TV or streaming players like Roku. Once you activate Pluto TV on Roku, you can stream the content on the television which makes for a better view of the content.
Pluto TV does show ads however as compared to traditional TV the ads are very few in number.
When you download Pluto TV app, you get access to a wide variety of TV shows from the past as well as the present.
You can live stream news and TV shows on your Pluto TV app.
The on demand library on Pluto TV is constantly updated so that you can have access to the latest movies and TV shows.
You can enjoy around 17 movie channels on Pluto TV that stream amazing movies round the clock 24/7 seven days a week.