In the age of Coronavirus, people are stuck at home, only going out to run essential errands, exercise while social distancing and go to appointments. When wanting to get glimpses into the outside world, people may call or video chat with loved ones and friends, scroll through social media or turn on the news. But, with everything that is happening in the current climate, hearing things straight from the source is important. If that sounds intriguing to you, read on to get the scoop on the Police Scanner app.
Police Scanner
Price: Free
Category: News & Magazines
Version: Varies by device
Developer: Best Police Scanner App

Uninstall the app:
1. Go to Settings menu
2. Choose Apps or Application manager
3. Touch the app you want to remove
4. Press Uninstall.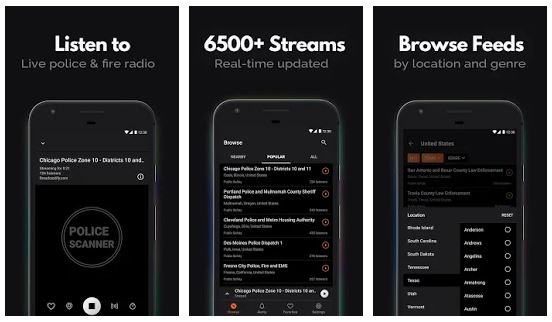 The app alerts you about public safety, breaking news and crime near your location, so you can be in the know. It is a leading police scanner app, and includes live police scanner, railroad, fire alarm, news, emergency, aircraft and amateur radio. Stay safe and informed!

Benefits of the App

What is better than staying safe? That coupled with amazing benefits!

Be the First to Know: Dangerous event happening downtown? Fire break out at a home in your neighborhood? Trains collide? Whatever the case, find out before the general public, so you can avoid those areas and stay safe. Just install the app!

Local and Live: Feeds come from your area, live. Get in on the action.

Stay Informed: No excuse to not know the local news, emergency warnings and public safety alerts that apply to you.

Global Scale: With Police Scanner, browse through over 1,000 scanner radio feeds worldwide. Top feeds include Fresno City Police, Fire and EMS, Chicago Police Zone 10 and Cleveland Police Dispatch and Metro Housing Authority.

Filter out the Noise: Filter scanners based on location. Switch locations when you want a broader view of what is happening within your state.

Get Alerted: Get the 411 on local activity, news as it breaks, traffic and emergencies. You can never be too prepared.

Search with Keywords: Find new feeds to listen to.

Bookmark Favorites: Mark your top feeds for easy listening.

See Popularity: View how popular each feed is, by seeing how many people are listening to each feed as you are.

Decipher the Alphabet: View in-app emergency, fire and police alphabets, so you know what public service officials are saying. No training required!

Get on the map: See the location of the feed on the scanner map.

Listen before bed: Have the scanner turn off at a certain time. It will be there in the morning.

Real-time Updates: Get updates in real time via broadcastify.

Our Review of the Police Scanner Mobile App

There is no doubt that the Police Scanner app serves a niche interest. If you are a public safety official whose hours got reduced due to the crisis, or want to train to become a police officer, fireman, or transportation safety captain, it is worth a download. Others may find it too overwhelming. That being written, it keeps users informed and knowledgeable about what is going on in the world, which is not a bad thing. Due to the nature of it, it is recommended to teens and up who have a sincere interest in public safety, service and learning about disasters to become more informed and compassionate tomorrow