Shopping at your local southeastern Publix has never been easier. Introducing the Publix Delivery and Curbside mobile app. This is a revolutionary way to shop, and others have followed suit. So below, let's discuss how the app works, what you can expect from it, and why you should try it out.
Well, first things first, you have to live near a Publix supermarket in order to use the app. The company is running hot in the southeastern United States and remains relatively unaffected by the other supermarkets around them. Then, you will be able to order groceries and have them delivered right to your door. However, with Curbside, you can drive to the store, and have them delivered directly into your car.
Publix Super Markets
Price: Free
Category: Food & Drink, Shopping
Version: Varies by device
Developer: Publix Super Markets

Uninstall the app:
1. Go to Settings menu
2. Choose Apps or Application manager
3. Touch the app you want to remove
4. Press Uninstall.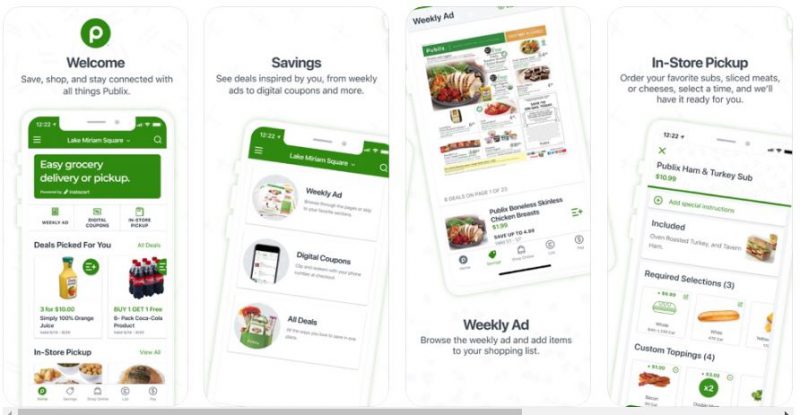 What to Expect from the App?
Well, it has tons of amazing features, including the aforementioned delivery and curbside features. This app allows the user to get any groceries they want to be delivered to their door, or directly to their car. The best part about this is the time it takes them. It takes the employees that are delivering your groceries to your house, depending on how big your list is, less than one hour. This is a good thing for the customers using the app because it takes the travel out of getting groceries.
Another cool thing that this app does is that it helps you save from week to week. If you don't go into the store, and you stick to the same list, never wavering on what you need, you will end up saving a ton of cash in the long run. The app also keeps all of your previous orders saved, and you can use them as a starting point for your new grocery list to get. This helps you save time and frustration; it is an easy way to shop.
What do you get when you use the app? You get an Instacart Shopper that is tailored to get all of your items into a cart for you. If you preordered it on the app, then you will have already paid for them. These Instacart shoppers help you save the time it takes to check the expiration dates because they want their customers to be satisfied and give them the freshest possible produce, and dairy products available. Not only that, but as customers order on the app, they can actually talk to their personal Instacart shoppers in real-time, and tell them any changes that need to be made.
Why Should You Try This App?
Well, all you have to do is shop online, and someone will get your groceries for you. On top of that, it only takes one hour for them to get your groceries to your house. As far as picking up your shopping list, it's also done within an hour, and all you have to do is drive to the store and sit in a designated parking area to get your groceries. Why not download the app, it's free, and upon install, you can start ordering groceries as soon as you pick where your store is located.
Conclusion
There is no better way to shop than online. Rather than shopping retail, though, you'll be shopping for groceries, and there's no such thing as next day delivery because they'll have it to you within the hour. Give it a try today, and there is no fee, except the groceries themselves, and it's a fast and easy download. What are you waiting for, not in line at the store anymore that for sure, with this app you'll skip the line every time?