Are you looking for ways to save money over the holidays? If so, you might consider downloading RetailMeNot. As the name suggests, the program aims to help you avoid paying retail prices. It works similarly to other coupon and cash back programs, such as Ebates. However, how does RetailMeNot stack up against the stiff competition? Find out in our review.
RetailMeNot: Coupons, Deals & Discounts
Price: Free
Category: Popular Now, Shopping
Version: Varies by device
Developer: RetailMeNot Inc.

Uninstall the app:
1. Go to Settings menu
2. Choose Apps or Application manager
3. Touch the app you want to remove
4. Press Uninstall.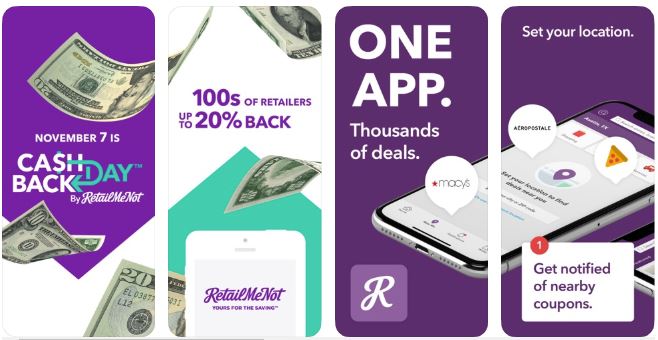 RetailMeNot is a website that helps you save money on purchases that you're going to make anyway. The application works in the same way except that it literally puts the savings in your hands.
If you've ever used a cash back or promo code application before, you know exactly what to expect from RetailMeNot. In short, the program gives you coupons and a percentage of cash back on thousands of stores. You probably shop at many of these stores on a regular basis anyway. Let's dive a bit deeper into how RetailMeNot works so that you can find out if it's right for you.
Firstly, RetailMeNot offers discounts and cash back at more than 50,000 stores. In fact, over 500,000 discounts are available at any given time. These discounts change all the time, so it's worth checking back on a regular basis. In my testing, though, the discounts didn't work 100% of the time. While the majority of them did work, some stores simply wouldn't accept them.
Secondly, while most people use RetailMeNot to shop online, you can use it for shopping at physical stores as well. This really expands the usefulness of the program. However, it works best for large retail chains. It's rare to find discounts or cash back offers for local shops.
With that said, the next question that people generally have about this app is, "How long does it take to get my cash back?" The purchases that you make stay pending for well over a month. In general, it takes about 45 days before you get your cash back in your RetailMeNot wallet. The reason is that the program has to make sure that you don't return the item that you purchased. The good news is that it pays, but you'll have to wait a long time before you get your cash back.
Finding the deals you want to use on RetailMeNot is fairly simple. You have the option to search for a specific shop or even look for shops that are near your location. You can even search for discounts based on what you plan to buy. For example, do you plan to purchase groceries and want to find the best deals? No problem. Just search RetailMeNot for the best food deals.
In addition, you have a few options in regard to using your cash back. For instance, you can get the earnings paid to you via a check. However, a better option is to redeem it for virtual gift cards because you get 12% extra. It's just another way to make your money go even further.
Pros and Cons
Pros:
It offers money-saving promo codes and cash back at more than 50,000 stores.

Easily search for deals and discounts by store or category.

Get 12% extra when you turn your cash back into store gift cards.

Cons:
Not all of the promo codes that I tried worked.

It takes around 45 days before your pending cash back is approved.

The program crashed a few times during normal use.

Final Verdict
Is RetailMeNot worth the download? The short answer is yes. While it's a shame that not all of the promo codes work all the time, the application is still free to install on your device. You can earn cash back from thousands of stores.
The money that you earn can be paid to you directly, or you can stretch it even further with 12% extra when you turn it into a retail gift card. However, remember that it could take 45 days or longer before your pending cash back gets approved. In the end, RetailMeNot is a great way to earn a little bit back when you buy gifts this holiday season.