Robinhood: Spreading the Wealth Through Financial Trade Working with a stockbroker is expensive. The process is literally taking from the poor and giving to the wealthy. Turn that concept around, and you have Robinhood: Invest. Buy. Trade. as a financial tool. Skip the middleman by trying this investment strategy. It takes the stock market to another level.
Absolutely Free
It's hard to imagine that investing can be a free endeavor, but Robinhood makes that hope a reality. There are absolutely no commission or fees associated with the transactions. You're the stockbroker in this case.
Keep in mind that you're limited to stocks and no bonds. This fact may be the reason why the transactions are free. However, most people who're looking to invest in this manner are looking at stocks as a way to improve their bottom line.
Robinhood: Invest. Buy. Trade.
Price: Free
Category: Finance
Version: Varies by device
Developer: Robinhood

Uninstall the app:
1. Go to Settings menu
2. Choose Apps or Application manager
3. Touch the app you want to remove
4. Press Uninstall.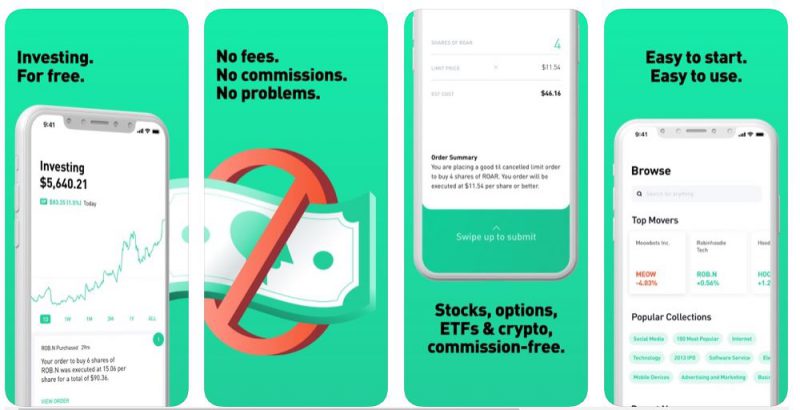 Compare and Contrast on Your Terms
The mobile app has everything that the website contains. You aren't missing out on any stock information. In fact, you can pick and choose stocks to compare and contrast. Select certain companies or look through the categories. Stocks in the restaurant industry, for example, might be attractive to you.
Be absolutely sure of your investment by reading over each company's history and future outlook. No investment is guaranteed to make money, but basing your decisions on hard facts can help.
Account Access Simplified
Download the app, fill in the basic information and you have an answer to your investment needs in about one hour. Other brokerages create huge hurdles for their customers. Robinhood wants everyone to feel comfortable with buying and trading. In fact, it's one of the easiest ways to earn wealth and keep it.
You'll need your basic information, including Social-Security number, along with your banking information. Remember that your account minimum can be $0 at the start. There's no balance to carry with Robinhood.
Improved Research Options
No one should invest on a whim. Research every choice within the mobile app by using the included research options. Learn all about Bitcoin or Ethereum, for example. The app's makers are constantly updating the research options so that you're as informed as possible.
Each financial product has a thorough review with both pros and cons. Make your own decisions about investments. There are no skewed reviews or advertisements for certain stocks. You are your financial adviser.
Connect Your Bank in Seconds
The Robinhood: Invest. Buy. Trade. app is compatible with most banking institutions. Set up Wells Fargo or Chase on the app so that you can move money when necessary. It's all possible when you go into the app's account settings.
Remember that the app only allows one account to be connected to it. Choose an account that's designed for your investment pursuits. The app has a secure design, which means that any account connected to it has few vulnerabilities to hackers.
Download Robinhood onto your smartphone today to see the difference in your trading abilities. Wealth can accumulate with incredible speed when you take control of your finances. Your portfolio can flourish with this app ready to go.