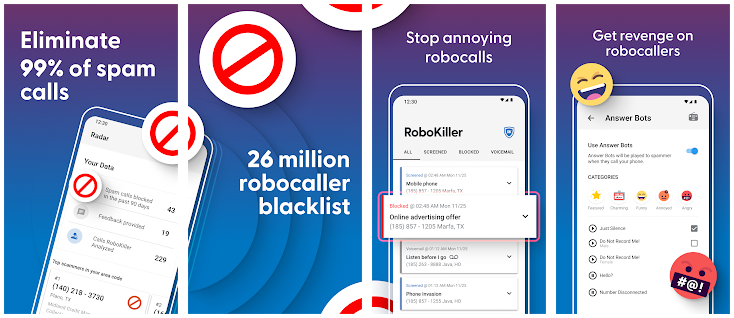 We get it — you are busy. Whether that means constantly taking on quarantine projects or a side hustle, looking after the kids, making it through virtual school, delivering client projects on time or just making it through the day, every hour and every minute counts. Plus, it is 2020. This year has already been one for the books, with dealing with a global pandemic, an uncertain economy and a divisive country. Amidst this, new technological developments pop up every day to make our lives easier. As we hustle through the end of the year, what is one thing we wish stayed in the past? Spam and robocalls. No one really talks on the phone anymore, anyway, and it can feel beyond annoying when a random call interrupts our thoughts, eating into our productivity.
But, rejoice, because, well, there is an app for that. Introducing RoboKiller - Spam and Robocall Blocker. Keep spam and sketchy callers at bay, all with a handy mobile app. Get the scoop below to see if you should download it.
RoboKiller – Spam and Robocall Blocker
Price: Free
Category: Communication
Version: Varies by device
Developer: TelTech Systems Inc

Uninstall the app:
1. Go to Settings menu
2. Choose Apps or Application manager
3. Touch the app you want to remove
4. Press Uninstall.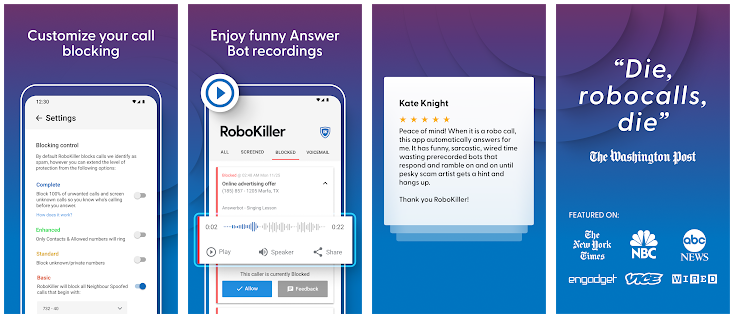 Features and Benefits
This spamblocker lets you block and filter out voice calls as they come in. It can block calls and add callers to blacklists using an algorithm and audio technology. Robocallers, telemarketers and that old classmate you would rather not talk to will not make it past the app. The same goes for calls from unknown numbers. RoboKiller - Spam and Robocall Blocker will take care of them!
Pros and Cons
While it may sound like the good outweighs the bad in this instance, it is still important to be mindful of the mobile app's pros and cons.
Pros
Your phone will not ring all day: The app blocks it from making constant unwanted noise.
Spam filter: It is so robust that it can block up to 90 percent of calls you would prefer not to answer.
Spam list: This list automatically updates, ensuring unwanted callers will not try to contact you again.
You are in control: Block numbers as long as you want.
Use the answer bots: Send an automatic message to the spam callers.
Listen in: Listen to messages to be sure they are really spam.
Report numbers and get in touch with customer service: Join the cause in stopping spam calls and robots from taking over our lives.
Cons
Payment to use: After a seven-day initial trial period, it costs money to use the app.
Subscription-based: Users must subscribe to use the app, and then get billed monthly. All of the perks that come upon install come at a cost.
Conclusion
If you want to keep spammers from disrupting your day, download the RoboKiller - Spam and Robocall Blocker mobile app. Block them so you can enjoy more time living and less time being bothered during the packed days ahead. Win-win. Yes, it costs money, but with endorsements from the likes of Vice and The New York Times, it is money well spent. Install it today!