Money is tight for many right now, and, understandably, they are looking to save. From clipping coupons to limiting nonessential purchases, people are looking to just get things they need, or support businesses that could use some additional orders these days. Chances are that you can relate to this struggle, as everyone adjusts to a new reality. While you have probably figured out your grocery, exercise, work, and trash removal routines by this point, what about picking up things like prescription medications? You need to take them, but they are expensive and so many places are closed at the moment. Do not fret. In fact, there is a solution! Check out the RxSaver app. Curious to learn more about it? Check out our in-depth explanation and review below.
RxSaver Prescription Discounts
Price: Free
Category: Health & Fitness, Medical
Version: Varies by device
Developer: The Ultimate Tool for Prescription Discounts - Save Up To 80%!

Uninstall the app:
1. Go to Settings menu
2. Choose Apps or Application manager
3. Touch the app you want to remove
4. Press Uninstall.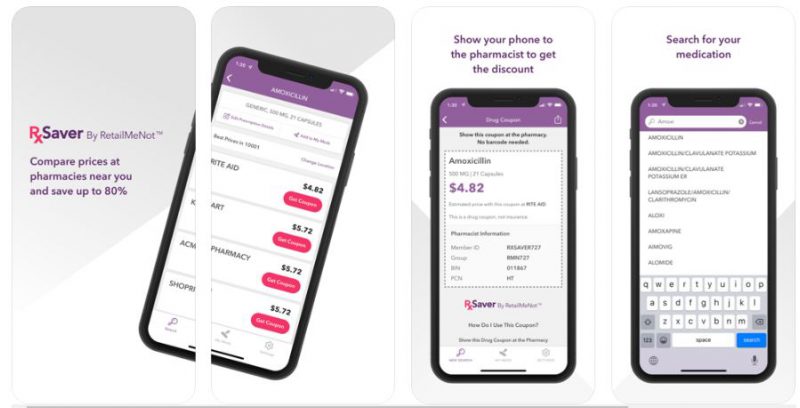 RxSaver offers just what it sounds like—big savings on the prescriptions you need! It also shows you how much you will pay at the pharmacy prior to pick up. Offered through popular coupon and savings site RetailMeNot, search for discounts in seconds and use coupons at pharmacies near your home.



The App's Benefits

Even if you are already sold on RxSaver, we have not told you about all of its great benefits. So, here they are:

Save Big: With RxSaver, take up to 80% off the manufacturer's price. Score! Search the app frequently for any updates. Offers and prices vary by area and are subject to change.

Free: You read that right. RxSaver is free and there are not even membership fees.


Check Local: See how much prescriptions cost in your area. Regardless of where you decide to go to fill them, you will save with the app.

Cast a Wide net: Search for savings at pharmacies across the country, including CVS, Costco, Wal-Mart and more. Discounted prices apply to both generic and name brand drugs, too.

Available to Anyone: There are no barriers to people getting what they really need with a valid prescription. People who are insured, uninsured or without insurance coverage can use RxSaver; plus prices may be less than what copays offer. RxSaver is not insurance.

For People and Pets: Did you know that many pet meds have human equivalents, making them easy to pick up at your go-to pharmacy? Ask your vet if that is an option next time Fido or fluffy needs a new prescription.

Price Research: Note that prescription coupons on RxSaver cannot be used in conjunction with insurance or federal or state programs. Check the coupons before filling prescriptions to see if RxSaver is more reasonable price-wise than insurance.

Easy Install: It is simple to get the app and get saving.
Intuitive to use: Once you have the app, get searching and saving! First, enter the prescription name in the search bar. Then, enter you zip code or use the GPS to find retailers near you. Use the "edit" tool to adjust strength, quantity and packaging based on what you have been prescribed. "Show Prices" will show the cost and discounts, while "Show Coupon" will show you any offers nearby. Once you know you want to save, take the phone to the pharmacy listed with the coupon up for easy reference and scanning.
Share the Wealth: Share Coupons with friends and family by clicking the share button. It will help you send the coupon to the contacts you want!
It is Easy: Once you pay, show the pharmacist the coupon, and feel great that you have saved!
Save Medications: No need to search for the same medications multiple times. Save them by searching for them, selecting "Edit," "Show Prices," and then "Save Med." The next time you want to reorder, "Saved Meds" is where you will want to go.
Our Review of the RxSaver Mobile App

Almost everyone needs to get prescription medication at some point. It is time consuming and difficult to find out which places have it, track and call in prescriptions and wait in line to pick them up. RxSaver offers a simple solution to all of that. If you can get them cheaper than usual, then why not download it? The RxSaver app is a no brainer to make prescription buying cheaper and less time intensive.