RX Saver is a great Mobile App that people who need prescription must-have. The only question that needs to be asked is, why haven't you already went to get the download yet? Well, in this article, if you don't know what it is or what it's for, this will explain everything simple enough that you don't need to go researching. We'll go over where you can use the discounts, if they're worth getting the app for, how it works, and who can use it. Now, without further ado, let's dig in.
Are the Coupons and Discounts Worth Getting?
The short answer is yes, but here's why. Not only are the coupons 100% free to use, but they can also save you more at the pharmacy than your co-pay with your insurance. Some of the coupons and discounts are 25% off at a minimum. I mean, we all know how costly prescription medications can be. Now there's a solution. The app allows you to get up to 80% off any prescription that you are prescribed. So yes, this is worth getting if only to save you a few bucks without spending a penny.
RxSaver Prescription Discounts
Price: Free
Category: Health & Fitness
Version: Varies by device
Developer: RetailMeNot Inc.

Uninstall the app:
1. Go to Settings menu
2. Choose Apps or Application manager
3. Touch the app you want to remove
4. Press Uninstall.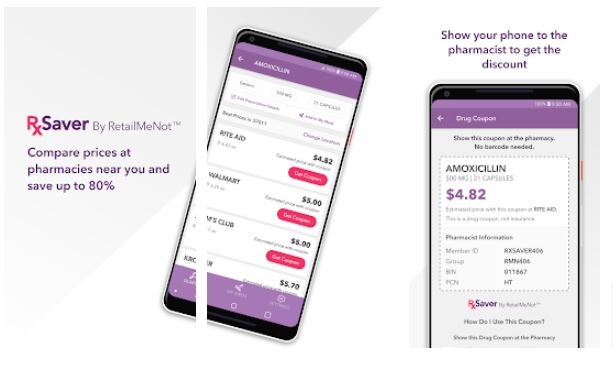 Where Can You Use These Discounts and Coupons
You can use all of the coupons you find here at any main pharmacy location. That includes Walmart, Kroger, Rite Aid, Costco, CVS, Walgreens, and more. There are so many places that accept these coupons that they even have a mobile scanner. Install the app, and get busy saving money on all your prescription needs.
Who Can Use These Discounts
Anyone can use these discounts. They are free for anyone who downloads the application. Also, pets can use these coupons and discounts. Well, I mean, they can't very well download the app, well unless their chimpanzees, but even then unlikely, but you can use the app for your pets to ensure that they get the meds and the help they need.
Conclusion
A revolutionary application that gives back to the United States people is RX Saver. They allow you to find the best price at the closest location and save even more. With a deal like up to 80% off all prescriptions, not saying that you will get 80% off all prescriptions, but even with 25% off, you getting a discount for no money to get it. You can be one of those extreme couponers that save massive amounts on their groceries, but with prescriptions. This app is like Robin Hood; it gives to the poor, and saves them a ton of money for nothing. You can even get discounted medication for your pets. The best part is that you can use them at all big chain pharmacies. So what are you waiting for? Go to the AppStore, get the application, and rake in your savings today.