This review is going to take an in-depth look at several of the game-play features that are available for players to enjoy within this casual puzzle game known as 'Save The Girl'. This popular puzzle game has received mixed feedback on the App Store from hundreds of thousands of users, but we want to try and explore some of the reasons that you might be interested in giving this puzzle game a try for yourself. We are going to start by saying that this puzzle game is completely free to download on your smartphone. This app is filled with confusing brain teasers and exciting puzzles that will test your mind for efficiency and problem solving. With that being said, there are also several other interesting game mechanics that might be appealing to users as well. One of those features happens to be the outcome of answering a puzzle incorrectly.
Save The Girl!
Price: Free
Category: Puzzle
Version: Varies by device
Developer: Lion Studios

Uninstall the app:
1. Go to Settings menu
2. Choose Apps or Application manager
3. Touch the app you want to remove
4. Press Uninstall.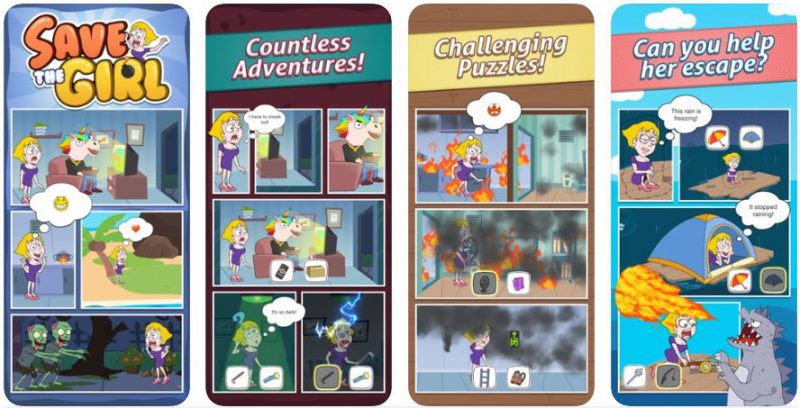 While we don't necessarily want to spoil the in-game circumstances, it is worth noting the importance of solving the puzzles correctly, or else you might be forced to witness a hilarious event in the game.
The next section of this review will specifically look at the features that are available within the 'Save the Girl' digital game. We will also be looking at the positive and negative aspects that are apparent after conducting an in-depth review of the game. There are a lot of great features to look forward to, and the customer feedback suggests that as well, but we also want to understand why some users did not have a good time playing this puzzle game.
Features and Benefits
Every moment within the 'Save the Girl' puzzle game could potentially be exciting for users that have downloaded the app onto their compatible smartphone. There are so many unique individual puzzle levels that you can participate in after installing the app. There are multiple choices available within each individual level, but it is important to make the right decisions to avoid undesired outcomes.
This complex puzzle game has a positive theme that is perfect for all ages, including children and teenagers. The well-executed game mechanics are a major reason that so many people have enjoying playing this game.
We highly recommend that you consider downloading this entertaining game if you are a fan of puzzle games, IQ games, or brain teasers. This game was created by Lion Studios and it was published to mostly positive feedback on the app store, although some users disapprove of the game mechanics because they are looking for an activity that can be taken a little bit more seriously. With that being said, it certainly isn't for everyone, but it surely is worth giving a try.
Features

Several Unique Puzzle Levels

Addicting Game Mechanics with Multiple Choice Options per Level

Pros

Free Installation on the App Store

Ideal for All Age Groups

Casual Game with Entertaining Puzzle Scenarios

Cons

Some Glitches Exist within this Game

Conclusion
We highly recommend that you install and try out this exciting puzzle game through the App Store. This game is supported by just about every single mobile device, but you can check the developer specifications for an exact list of compatible smartphones. The download process is quick and easy, but it might take a little while for you to understand the general puzzle mechanics within the game.
The mixed feedback indicates that some users will enjoy this activity, but some others may not be interested as well. You'll never know how you feel about it without trying it for yourself.