Hey parents, ever wonder how it feels to keep tabs on your kid's school life? Well, look no further than the School Messenger. This mobile app is great for you, the parent, to get a feel for how your child acts and does in school and how well they're doing with there school work. We'll go over the app as a whole, the features that this app has, and why you should download the app today.
This app is unique in the aspect that it helps parents stay connected to their child's schools, whether they're in grade school, middle school, or high school. This app helps people stay connected to their school district if their parents, students, or staff that are too busy to interact with each other regularly. This app is the way they can all come together and talk about their school life, and what the students are up to. These messages are fast, easy, and relevant and are about your child's or student's school life.
SchoolMessenger
Price: Free
Category: Education
Version: Varies by device
Developer: SchoolMessenger

Uninstall the app:
1. Go to Settings menu
2. Choose Apps or Application manager
3. Touch the app you want to remove
4. Press Uninstall.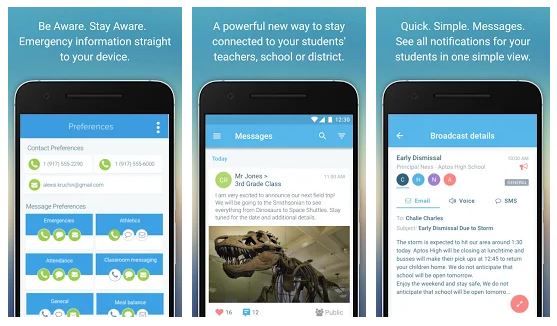 Features of the School Messenger App
There are so many cool features that it's hard to say that one is better than the other, but we'll just explain them all, and you can decide which is the best feature in the app for yourselves. The first up is the easy to read inbox. This inbox sets up an easy way to collect all notifications and acts as a direct two-way between the staff/teachers and the parents/students. The next feature up is the notification view that is easy to use and works like posts on Facebook. They have scrollable notifications so that both parents/students and staff/teachers can review all of the phone, text, and email content in one convenient location, the notification wall. After that feature is the ability to set up your own custom notifications that you can build yourself with the "detailed preference control" so that you can allow only notifications that you deem necessary to view. Another cool feature of the School Messenger mobile app is that they allow push notifications, which sends you a message to your phone without having to be in the app itself at the time. You can read it like a message before deciding if it's important to know. You can set that up as the school or school districts send messages to all parents and students.
However, with all of these cool features, you need to have some requirements, right? This app is no different. The biggest requirement is that your school or school district has to have a notification service subscription with School Messenger active in order to allow you the parents to get these notifications. If not, then this app isn't for you until your school or the district sets it up. Also, you must have a valid email on file at the school district to allow you to get the school's notifications. It runs of Andriod 4.4 and Higher, as well as having to have Wi-Fi or a data plan so that you have internet access. And that sums it up for the requirements.
Why Should You try this App?
This app allows students and parents to know all of the goings-on at school when you are having school when in-service days will be, and when there are days that students have off in general. Some school districts don't use this, so it may be pointless to some, but if your school or district is using this, then there's no reason to not try it. It's free, the school is footing the bill for the app, and all you need is a valid email address on file at the school, and you will be able to receive all the notifications. So download and install the app today.