Piling volumes of books into the back of a car isn't part of modern life anymore. Accessing your reading material is now a simple act of tapping on a smart device's screen. Scribd is the latest app that's thrilling readers across the globe. Be part of a reading revolution with Scribd downloaded onto your device right now.
Scribd is different than the other audiobook apps offered today. You'll find millions of book titles to read and enjoy. There are also magazines to virtually flip through. The subjects are practically infinite when it comes to books and magazines. There's something for everyone here. Consider a download of your favorite song in the form of sheet music. Scribd even includes sheet music so that you can improve any talents on a favorite instrument. Browse through the selections today to see what's available.
Scribd: Audiobooks & ebooks
Price: Free
Category: Books & Reference, Popular Now
Version: Varies by device
Developer: Scribd, Inc.

Uninstall the app:
1. Go to Settings menu
2. Choose Apps or Application manager
3. Touch the app you want to remove
4. Press Uninstall.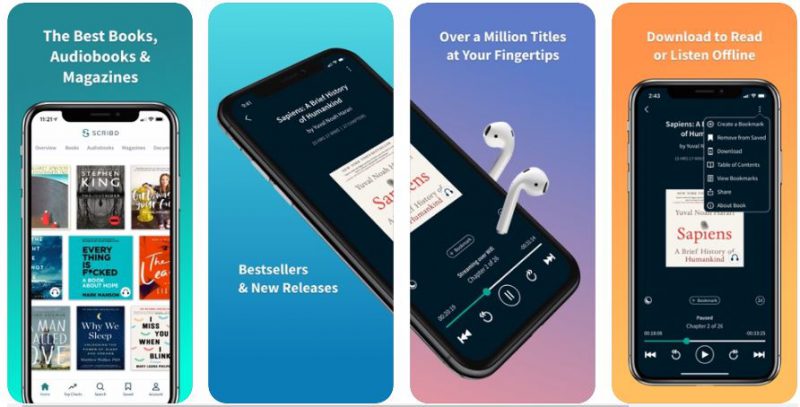 Scribd supports both audiobooks and e-readers. Everyone has their preference when it comes to reading. You might appreciate listening to a story as you drive to work, for example. Reading from your tablet or smartphone is the other option. Enjoy a book with old-fashioned reading but with a modern spin. The screen lights up to a comfortable level so that you can read in either bright or dim light.
Most mobile apps don't offer both alternatives, which is what makes Scribd different. Install it today to see the difference in your reading frequency.
Learning About Alternative Documents
If you're an academic at heart, you want more than the standard non-fiction and fiction titles. Scribd goes further with its titles to include alternative content. Look for dissertations, medical studies and more through this mobile app. Read all about case studies that have just been released. You can learn a great deal from just the titles offered on this platform.
There are even study guides and government reports to keep you busy when you're curious about the world around you.
Offline Ease
You may not always have Internet access for all of your books, such as during a flight across the nation. Be sure to download the items that you desire before you take off. Scribd gives you offline ease with downloads for nearly every book, magazine or article.
Take them off your device once you have Internet access again. In reality, you can always have a book ready to go with Scribd on your device.
Scroll as You Please
Set up your book so that the scrolling is at a comfortable pace. You might set a timer to stop an audiobook at a certain time, for example. Scribd puts you in control of your reading or listening.
Add bookmarks, annotate or write short notes in the margins. You can essentially use the Scribd mobile app as you would a paper novel. Make the story yours with side notes added for reference later on. Avid readers appreciate these small details.
Monthly Subscriptions Available
To access every section within Scribd, a monthly subscription is suggested. It automatically renews every month unless you cancel it. The subscription gives you access to all of the content without any ads. For many readers, this option is worth the less than $10-a-month price.
Log into your account from any Internet-connected device. Both tablets and smartphones work with Scribd. Diving into the written word can be your escape with a paid subscription.
Remember to update your app whenever the device notifies you of an upgrade. Scribd continues to thrill readers of every age with new features and content every day. Become a book fan once again with only a smartphone or tablet to carry all of your favorite titles