Online shopping has a fresh feel to it with SHEIN, a mobile app that allows you to browse through the latest fashion right from your smart phone. Staying true to the day's trends and always in touch with the season, SHEIN will surprise you when you see merchandise that looks tailored to your personal style.
The free mobile app was clean and easy for me to navigate. It provided me with an endless selection of pieces that made me want to hit "Add to Cart." With a wide selection of T-shirts, dresses, and more, you can build a brand-new wardrobe with SHEIN and wait for it to be delivered to your door.
SHEIN-Fashion Shopping Online
Price: Free
Category: Shopping
Version: Varies by device
Developer: ZOETOP BUSINESS CO., LIMITED

Uninstall the app:
1. Go to Settings menu
2. Choose Apps or Application manager
3. Touch the app you want to remove
4. Press Uninstall.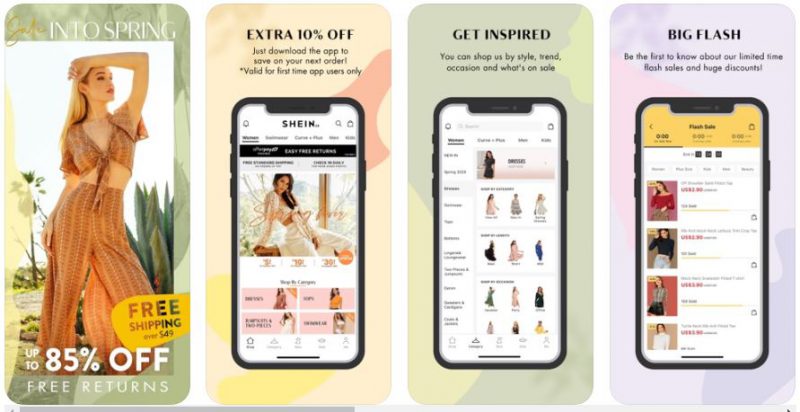 It caters to all body types, and has sections for curvy/plus size, as well as men and kids. Reviews promise that it is generally accurate regarding sizing, and the quality of the material shipped to you is satisfactory. With an extra 10% off your first order, shopping for your first purchase is fun; it's also difficult to limit your shopping cart to your budget, as the selection is so diverse!
SHEIN's hashtags keep you up to date. Look for swimwear using #SHEINsummerfun; if you visit #SHEINathome, you'll find that there are even colorful face masks to keep you protected in style. The overall impression of this addictive fashion app is as if you were walking through your favorite store in the mall.
SHEIN is available for download on Google Play and the Apple store. A clean menu helps you to find what you are looking for. It runs quickly and does not have blocks of text to distract you from the item you are looking at. If you do not wish to download the app on your mobile device, you can shop online on your computer; the benefits are the same, and you'll find yourself scrolling for hours.
When I had finished shopping on the SHEIN app, I set my selection aside until later. I received friendly reminders of my full shopping cart throughout the day, so when I was ready to complete the purchase, I found that everything was still there. Some might find the reminders irritating rather than helpful, but notifications can be turned off, and your selection is still safely in place.
SHEIN does not only sell clothing items. There are categories for kitchen and home decor that follow the trends like your favorite brick-and-mortar store. Your bathroom and kitchen do not need to remain drab as you are updating your clothes wardrobe; charming, colored egg-beaters and ice trays that produce heart-shaped ice cubes will make every detail of your life interesting.
If something seems to be puzzling you, there is no problem. SHEIN's Customer Service feature will help solve your issues. Creating an account will earn you coupons and points for the next time you hit the app for a shopping spree. Not only that, but in the US, returns are free. SHEIN has thought of everything to make your shopping experience as drama-free as possible.
Like all apps, make sure your mobile device has enough room for SHEIN when you decide to install it. It's worth the space that it takes up; especially since we are under stay-at-home orders, it lifts the spirit to be able to hold your favorite shop in the palm of your hand. Shipping and handling depends on the order you place, and of course, delivery time hinges on where you live.
I was glad I installed SHEIN when my order arrived. I couldn't decide which of my new shirts to wear first. They all mix and match well with quality accessories that help to bring out your personality. Though I did not feel the need to return anything, I had the peace of mind knowing that I had the option if I needed to.
The SHEIN app, in short, is an elegant and trendy way to stay up to date with the latest fashion. Designed with minimalism in mind, it provides you with a straightforward shopping experience and quality items delivered straight to your doorstep. It would seem that SHEIN has covered just about everything when it comes to online shopping; it's most definitely worth a try