What is this new app that businesses are saying is the fastest rising, and best collaboration app on the market? Well, the answer to that is the Slack mobile app. There is so much that can be done on this app within your own team. Not only does it allow you to communicate within your team, but there is so much to explore within the app as well. What are we waiting for, let's review this cool app?
Work with Your Team
This is a great app for working with your team. If you are working from home, at the office, or on the go, this app makes working and collaboration simple for you. This is one of those apps that it doesn't matter where you work from. You can still get every piece of work that you need anywhere. You can send messages to the rest of the members of your team, you can send as many messages as you want, and you can send it to a whole group or a specific individual.
Slack
Price: Free
Category: Business, Communication
Version: Varies by device
Developer: Slack Technologies Inc.

Uninstall the app:
1. Go to Settings menu
2. Choose Apps or Application manager
3. Touch the app you want to remove
4. Press Uninstall.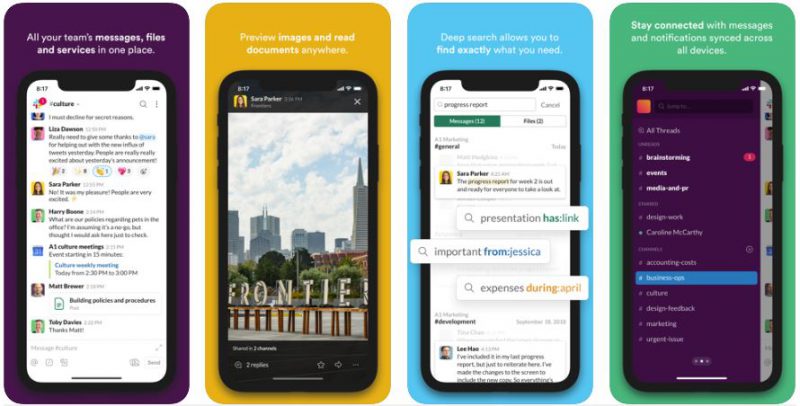 What You'll Get with This App
Whether you work for a small company or massive cooperation, this mobile app allows you to bring work collaboration and communication to one central place. This app allows you to bring everything you need into one area, including projects, tools, information, and conversations. It's also available on multiple platforms, including mobile and desktop.
Calling
With the app, you can call any member of your team directly from the app. The boss to all the coworkers can contact anyone within your group. Whoever you need to contact, with this app, it's all possible with the touch of a button.
Share!
Not only can you communicate with your coworkers on all of the projects either now or in the future, but you can also share with them. Now, we've established that you can call with the app, but what else can you share? Well, there is a lot you can share, including images, messages, documents, and more. You can share them, and the best part is that with this app, it incorporates teamwork, and your teammate can edit your work, or you can edit there's.
Integration
This is a simple app, and when you download the app, you can use everything you already know and love into the app. This includes the integration of your workflow, services, and tools like Salesforce, Asana, Google Drive, Dropbox, Zendesk, Twitter, and more.
Indexes and Quick Searches
Not only can you send and edit documents that you have recently been sent, but you can do far more than that. In the Slack app, it makes work easier for the worker. You can now go back through all of your collaboration, information, tools, workflow, files, conversations, projects, and more with the easy search archive. All of the information that you have access to on the site, you can search through everything and find exactly what you need with an easy and fast search database.
Customization
You can customize in the settings side of your app, and you can select what and who you want to receive priority messages and files from. It will be customized to show you everything you need so that all you have to do is focus on work, and the app will notify you when you have anything of value or anything you need.
Conclusion
All in all, this app is a great way for the workers to stay ahead of the curve. This takes collaboration to a whole new level while making it easier to work in teams. With a collaboration app, people can easily get their projects done promptly. So what are you waiting for? Go install the Slack App today!