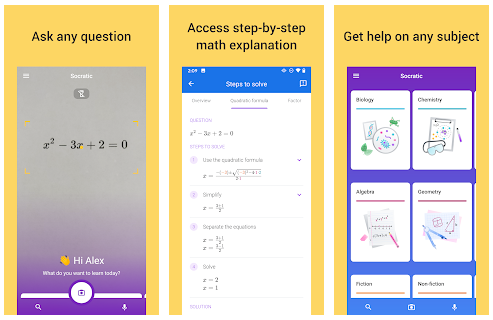 Let's face it: Whether you're a student trying to achieve good grades to get into a college or you're an adult going back to earn a degree, certain subjects are tough. Within these complex subjects are frameworks and techniques that build upon one another, each serving their purpose within the topic at hand. But when we get confused with a specific topic, what are we supposed to do?
Socratic by Google is a mobile app that aims to make learning complex topics enjoyable and engaging. Rather than struggling to make it through a class or study session, Socratic breaks down intricate tasks into bite-sized, manageable chunks. When you look forward to studying and learning new topics, the world becomes your oyster!
Socratic by Google
Price: Free
Category: Education
Version: Varies by device
Developer: Google LLC

Uninstall the app:
1. Go to Settings menu
2. Choose Apps or Application manager
3. Touch the app you want to remove
4. Press Uninstall.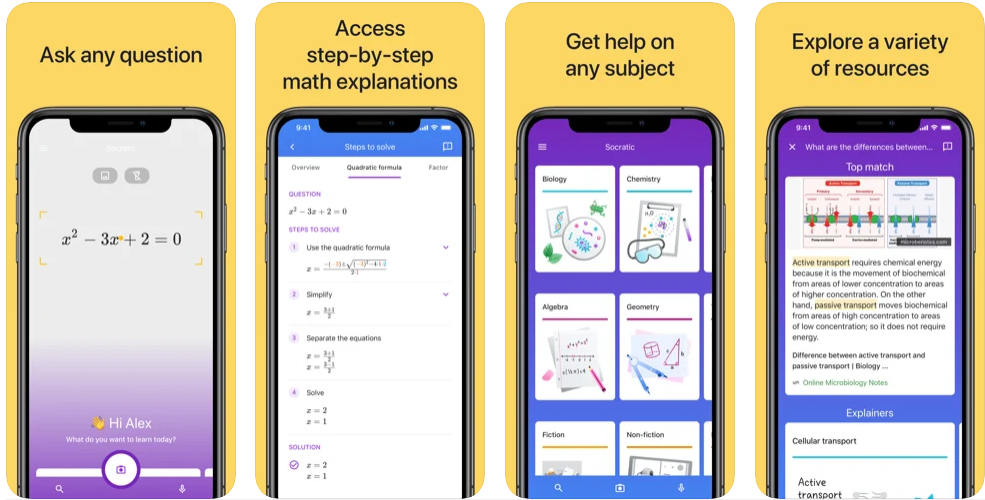 Features
One of the first benefits you will find with Socratic once you install it on your device is how intuitive and easy the user interface is to navigate. Socratic uses artificial intelligence (AI) frameworks to scan the entirety of the known internet for problems and solutions similar to the user's input.
The user can either type their question into Socratic's input box or use their device's phone to crop an image of their inquiry. Socratic takes that input and retrieves data and links to learning tools and mechanisms that the student can rely on to derive an answer. While some links will give a direct solution to the student's problem, some websites will provide comprehensive breakdowns of specific techniques that the student can utilize to gain the answer for themself.
Moreover, students can also use voice commands to interact with the Socratic mobile app. This technology also lends itself to students that may be visually impaired or have difficulty reading small print.
While this gives insight into how Socratic works once the download has completed, here are some benefits that the application provides users with:
Provides insight into multiple topics such as algebra, physics, world history and biology
Teacher insights that help students succeed in the classroom
Video lessons and explanations of complex subjects
Multiple input options for homework and assignment questions
Solutions for basic, medium and complex questions
The Pros
The beauty of Socratic is that it helps students succeed regardless of where they are on their journey. From the math major that wants to stay updated with current problems sets to the individual just learning about algebra, Socratic does it all.
If a student finds themselves in an area of work that they deem is too difficult, Socratic is there to help! Countless video lessons and study guides provide insight into the process of solving complex and tricky problems in the user's homework.
Once the download has completed, users get thrown into a world of high thinking and education. Not only does homework become easy to solve and more efficient, but it also becomes enjoyable and exciting! Imagine a world where you look forward to solving complex problems and exploring the world!
A user of the Socratic application wrote, "This is such a good app! It helps in so many ways. It doesn't glitch at all!"
The Cons
We'll be honest, Socratic has a little ways to go before it becomes the number-one homework application on the market. The biggest complaint that users have once they install Socratic is how it tends to have a small database of answers.
You know how it is: When you're doing homework, and you're stuck on a problem, you want a quick solution to soothe your mental anguish and exhaustion. When Socratic can't find an exact answer to your query, it links to multiple resources that it thinks may be helpful. However, these links sometimes make the student more confused than they already are.
Students have also found issues with verifying whether an answer was correct or not. Socratic relies heavily on community-based interactions that others have deemed accurate and insightful. But as we know all too well, just because an opinion is popular does not mean it's 100% accurate. In the future, Socratic should extend their AI so that it can verify and validate answers that are given to students' questions.
Lastly, some users have experienced a bug within the Socratic software dealing with their camera input. Many students have had to reset the application because the software lags, glitches, or crashes the application before they can input a question.
Is Socratic Your One-Stop-Shop Learning Tool?
If you're a student or someone that values higher-level thinking, Socratic by Google may be the application you've been looking for. Imagine a world where you can solve complex homework questions in a matter of minutes instead of hours!
Socratic also allows students to engage with thoughtful and helpful professors and teachers. These academics have put together hours of videos, study guides and easy-to-digest presentations that help students succeed and prosper in their own time.
However, niche questions and high-level answers may not be found within the Socratic database. If you're an academic working on the fringe of your respective field, Socratic may not be your solution. Socratic aims to give students comprehensive knowledge and understanding to tackle life's most difficult questions and tasks.