There is so much stock sitting out there right now, and most of them are at all-time lows. The reason is the economy is shut down, and people aren't buying right now. So here comes an app that shows us that not only do you not have to be rich to invest, but you can start with little money down. SoFi Trade stocks & invest, borrow or save money is what people are looking to, in order to make a profit off of businesses. So what are the features, how does it work, and why should you get the app? Let's discuss this below.
SoFi Trade stocks & invest, borrow or save money
Price: Free
Category: Finance, Popular Now
Version: Varies by device
Developer: Social Finance, Inc

Uninstall the app:
1. Go to Settings menu
2. Choose Apps or Application manager
3. Touch the app you want to remove
4. Press Uninstall.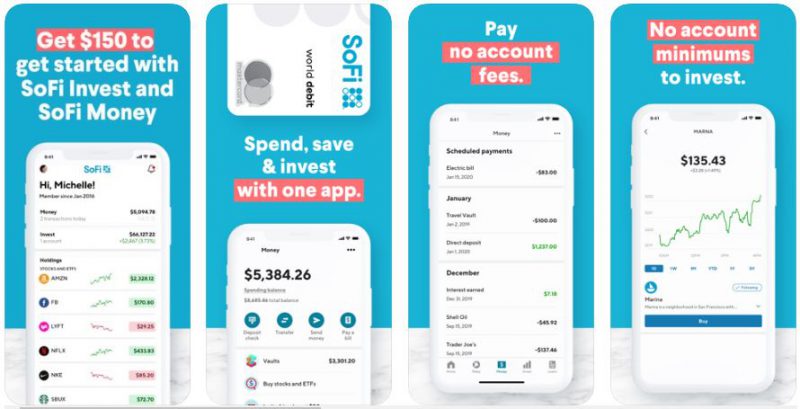 What are the Features of the SoFi Trade Mobile App?
There is a lot to cover in the features section of this app because they are helping people, keeping competitive costs, and there are no hidden fees. So the first feature is your investment strategy. You can invest in multiple ways, and two examples of this are stocks and cryptocurrency. You can invest in all of this, and the features of that don't stop here. You can also buy and sell Bitcoin, Ethereum, and Litecoin. With this, you can work with all the cryptocurrencies you want. There are also no account fees or account minimums to invest in stocks, which makes it available to do for anyone. And finally, you can use auto-invest, and it will follow trending stocks, as well as use ETF's to help you earn even more money.
Another great feature is the ability to save, earn, and spend money directly from the app itself. You will pay no account fees to have your account open or kept open. There are no annual fees, transactional fees, overdraft fees, or other account fees that may be given by banks or other financial institutions. There are no hidden fees and no fees outside of what you spend on the app. If you find and use an ATM that accepts Mastercard, and it asks for you to pay a fee, don't worry, you'll be reimbursed for the charges.
Rounding out the features is the Loans feature. You can borrow money with loans and other ways directly in the app. Borrowing is fast and easy with the SoFi Trade app, not only can you borrow money to invest in stocks, for personal use, for a business start-up, student loans, or any other reason you could think of for borrowing, but sing the app makes it easy. When you are borrowing for student loans, they also drop the APR% to help you save on your return loans. Saving you money and helping you get ahead.
How Does the App Work?
Well, it's basically a bank on your phone. You will have all of the capabilities of a bank, with the mobility and versatility of phone movement. You can borrow money, and save on your APR% to get a lower rate of interest on your investments while spending the money on whatever you need. They also have stock and trade options that are low priced, fair, and easily accessible. You could get started with less than $1 investing in stocks and cryptocurrencies. You also have to pay no fees, so whatever you owe, or have in the account is all you will ever have to pay. Simple, easy, fun!
Why Should You Download the App?
The app has more advantageous opportunities than any other mobile banking or trading app on the market. You will be more than thrilled with the end result of your app pickup. With so much already said, I feel like there's nothing left to say, except that the app is free to install and use whenever you want, so what are you waiting for? Get the app today!