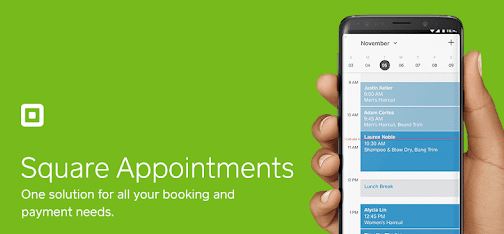 Online booking software has improved leaps and bounds over the last few years. One pioneer in that frontier is Square Appointments, which has grown to become a fully-featured POS solution.
Square Appointments is booking software that has grown to become much more. The service allows businesses to take payments, create discounts, and accept tips. The service is free for individuals and independent contractors – you only need a phone number and a Square account to get started.
Square Appointments is integrated into Square's broader platform, but you are not obligated to use the entire platform. You can use Square Appointments without using POS integration, but it does make things easier.
Square Appointments: Booking, Scheduling, Payments
Price: Free
Category: Business
Version: Varies by device
Developer: Square, Inc.

Uninstall the app:
1. Go to Settings menu
2. Choose Apps or Application manager
3. Touch the app you want to remove
4. Press Uninstall.
The software is entirely cloud-based with limited offline functionality. Square Appointments can be used in offline mode – allowing you to queue credit card payments. Those will be processed as soon as you have a connection again. Square Appointments is geared towards businesses that operate best with customer scheduling.
Businesses like salons, personal trainers, massage therapists, and doctor's offices could benefit from the mobile app. The app can also be used to sell physical items, making it ideal for service businesses. Coffee shops, bakeries, and markets make ideal business candidates. One feature Square Appointments is lacking is class-booking. That means companies that book groups may not benefit from its scheduling features.
Square Appointments Features
* Calendar displays include day, week, five-day, and monthly views
* Book blocks of time as appointments by clicking
* Online self-booking for customers
* POS to checkout customers after appointments
* Accept loyalty rewards or issue gift cards
* Create new discounts on the fly
* Sell retail items through your POS
* Define staff roles and permissions
* Accept tips from customers
* Allow customers to reschedule their appointments
* Mobile app includes reports, transactions, and invoices
* Timekeeping and basic employee management included
Square Appointments offers three plans that include its entire suite of scheduling features. The plans start for no monthly subscription and 2.6% +$0.10 per transaction. The second-highest tier is for 2-5 staff and starts at $50 a month, 2.5% + $0.10 per transactions. The third tier is for business with 6-10 staff and starts at $90 a month, 2.5% + $0.10 per transaction.
Businesses that have more staff can contact Square for custom pricing. Compared to other booking software, Square's lack of a monthly fee is enticing. Small businesses run by solo owners can get started without spending a dime on a monthly fee.
Square Appointments Pros & Cons
Pros:
* Excellent software integrated with the Square platform
* Schedule appointments and collect payments with one system
* Track customer loyalty and satisfaction
* Accept gift cards and create on-the-fly discounts
* Employee time-tracking and scheduling
* Integrates with Square invoicing
Cons:
* Square invoice integration charges higher fees
* Limited customization options for scheduling portals
* Somewhat basic client management features
* More expensive for teams than other solutions
Should I download and install Square Appointments?
Square Appointments is an excellent all-in-one scheduling and booking solution for businesses already using Square Payments. It also features employee time-tracking and scheduling to keep your business on track. Square works on the web, iOS, and Android and is easy-to-use and set up.
Square Appointments provides just about everything a business needs to accept appointments in one package. That's enough to make it worth using, even if you don't use other Square products.