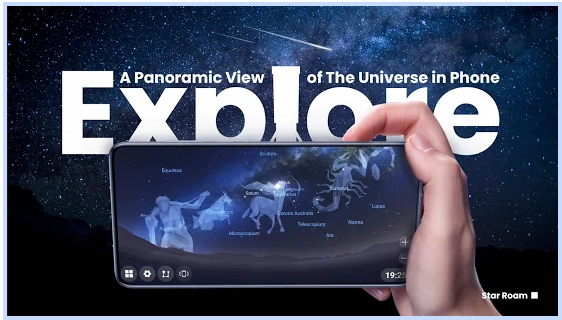 Star Roam is a star guide mobile app available for download in the google play store. Once installed, Star Roam turns the user's phone into a futuristic astrolabe. The app uses the gyroscope sensor on your phone to auto-track the night sky in real-time. This view of the sky includes labels for planets and constellations while also showing you exactly where they are located. With this app, you can observe the stars and planets moving in real-time and read up on all the included astronomy details.
After you first install the app, you will be taken through a few settings to customize it to your location and star culture preference. Star Roam includes 27 of the most well-known star cultures available. These cultures include Western, Norse, Navajo, Korean, Arabic, and more. The app gives you information on the star culture and lets you change it at any time in the settings menu.
Star Roam – Track Planet & Constellation, Sky Map
Price: Free
Category: Education
Version: Varies by device
Developer: Findout World Inc

Uninstall the app:
1. Go to Settings menu
2. Choose Apps or Application manager
3. Touch the app you want to remove
4. Press Uninstall.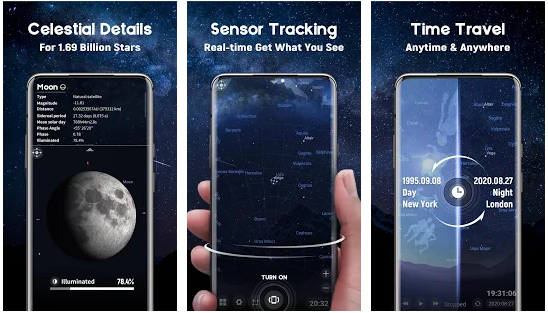 Features and Benefits of Star Roam
Star Roam includes a host of features that set it apart from other star guide apps. These features allow you to learn the stars in a more realistic setting with detailed information on different celestial bodies and setting tweaks to make the experience more enjoyable. Some of these features include:
Sky Tracking:
This is the ability to track the sky in real-time just by aiming your phone in the direction you want to explore. This allows you to get astronomical information on what planets or constellations you may be looking at, as well as tracking their movement across the sky.
Star Details:
In the apps sky view mode, you can track the astronomical details of over 1.69 billion stars, as well as two million galaxies and nebulae. This includes all the known planets, moons, comets, and smaller solar system asteroids.
Geographical Environments:
In sky view mode, the app allows you to change the environment between a grassy field or a lake. This, along with the atmospheric refraction, sunrise, and sunset, makes the sky view mode feel more realistic.
Star View Time Travel:
The date, time, and location can be edited in the Star Roam settings menu. This allows you to see the locations of the stars, planets, and constellations on any given day from any area. This can work both with going back into the past or forward into the future.
News and Events:
The app includes a tab that features the latest news in astronomy and space exploration, as well as upcoming star events such as moon phases, planet and star movements, and meteor showers.
Offline Mode:
Star Roam is still able to load the sky view if you are not connected to the internet. This is a valuable feature when you are camping or hiking and far away from any Wi-Fi connection.
Pros and Cons of Star Roam
While no mobile app is perfect, Star Roam does have many positives associated with it. The ability to use the star map offline can come in handy when outdoors, which is where many people will be when using the app. Many features of Star Roam are available without paying for the pro content or plus version. So the star tracking, detailed information, time travel, and some environments are available in the free download. If the western star culture is chosen in the settings menu, many of the constellations will have illustrations around them to help see their shape. There is also the handy news and events tab that can have notifications set on it so that you never have to miss another incredible astronomical event again.
As a negative, the app does have a pro paid subscription available for $4.99 a month or $29.99 a year. So the free version that you initially download will have locked areas in it, such as the ability to toggle on artificial satellites in sky view mode, as well as ads scattered around the different menus. There is also plus content that can be bought in the Star Roam store that you otherwise will not be able to access. This includes two different sets of nebulas, with 50 distinct nebulae in each set, an additional set of 1.72 million deep-sky stars, three more environments to choose from, and an extra 48 constellation illustrations. Another negative is that the constellation illustrations that can help a novice stargazer understand the shapes are only included in the western star culture. Still, then some of those illustrations are put behind a plus content label.
Overall Thoughts
Star Roam is generally a good star map to install for a novice star enthusiast. Those looking to dip their toes into astronomy will find this app enjoyable with an uncomplicated user interface and settings menu. But the small taste of astronomical information may not be enough to satisfy someone more advanced.