The motto for State Farm has always been, "Like a good neighbor, State Farm is there." Thanks to its mobile app, this motto has never been truer. It gives you complete access to your State Farm accounts on your mobile device. All of your insurance and bank accounts are handy through the app.
Manage Your Insurance Policies
The State Farm app makes it easy for you to not only view but also manage all of your insurance policies. You can view the policies and coverage details in the app, including your insurance ID card.
Do you need to pay an insurance bill but aren't near your computer? The State Farm app has you covered with the ability to view and pay your bills. You can even pay with Android Pay, which makes managing your insurance policy even easier.
State Farm
Price: Free
Category: Auto & Vehicles
Version: Varies by device
Developer: State Farm Insurance

Uninstall the app:
1. Go to Settings menu
2. Choose Apps or Application manager
3. Touch the app you want to remove
4. Press Uninstall.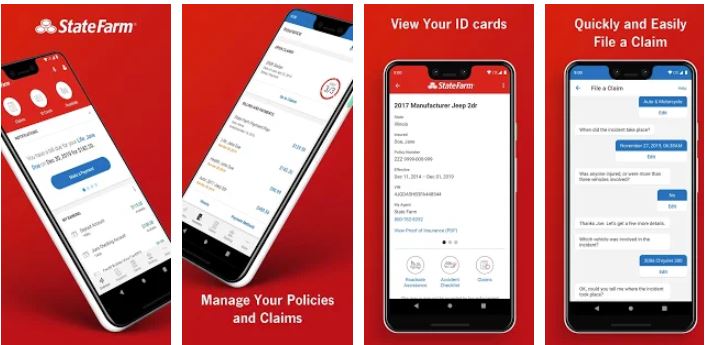 File a Claim From Your Phone
Once you install the State Farm app on your phone, you can take advantage of mobile claim filing. It allows you to file a claim on your property or vehicle from within the app. You can also view and track the status of any claim that you've previously filed.
The State Farm app aims to make your life easier when you're in a tough spot. For instance, you can use it to search for vehicle repair facilities near you. Also, you can use the app to get roadside assistance for:
Dead batteries.

Flat tires.

Stuck vehicles.

Empty gas tanks.

Manage Your State Farm Bank Account
As you may know, State Farm offers more than just property and vehicle insurance. You can get FDIC-secured bank accounts as well. Fortunately, you can use the same State Farm app that manages your insurance policies to also manage your bank accounts.
Using the app, you can easily transfer funds between any of your State Farm bank accounts. For example, you can move funds between your checking and savings accounts. The app makes it easy to view your transaction history and check your current account balances too.
Another cool feature of the State Farm app is the ability to deposit checks. In addition, you gain access to Bill Pay with your bank accounts after you install the app.
Take Full Control Over the App
The ability to completely customize your experience within the State Farm app is helpful. You can set personalized notifications and reminders as soon as you log in. Also, you can learn about new State Farm products or view helpful FAQs to answer any questions that you have about the app itself. Combined with the ability to view details about any of your State Farm accounts, it's easy to see why so many people love this app.
Download the State Farm App Today
The State Farm app has a lot to offer if you already have accounts with the company. From the ability to manage your insurance policies to having complete mobile control over your bank accounts, this app is very handy. The deal is even sweeter since the app is completely free. If you're already a member of State Farm, you should download this app to your phone.