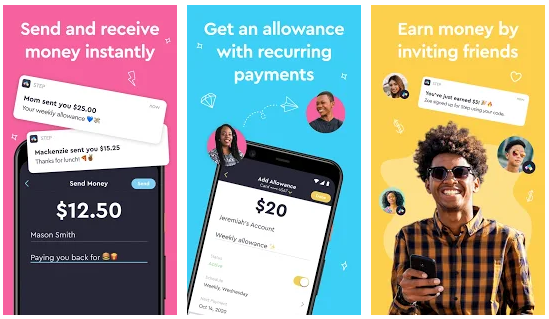 Teaching your child about money management is essential. It will provide them with adequate knowledge, that will assist them in making grim financial decisions later on in life. Unfortunately, banks have failed to do so. To fill that gap, Step – Teen Banking was created.
The application has over one hundred thousand downloads and is well rated by its users. Contrary to several banking applications, Step – Teen Banking doesn't include any overdrafts or monthly chargers, not to mention, the entity insures your account up to 250,000 dollars.
Step offers a flexible and simple solution by allowing parents and teenagers to add money to their accounts by joining their Step card to debit cards, other applications and bank accounts. This finance app will enable you to transact cashless payment at ease.
However, Step entails of some enticing pros, but unpleasant cons that you should be aware of before you install the app. Therefore, read on and learn them.
Step – Teen Banking
Price: Free
Category: Finance
Version: Varies by device
Developer: Step Mobile, Inc

Uninstall the app:
1. Go to Settings menu
2. Choose Apps or Application manager
3. Touch the app you want to remove
4. Press Uninstall.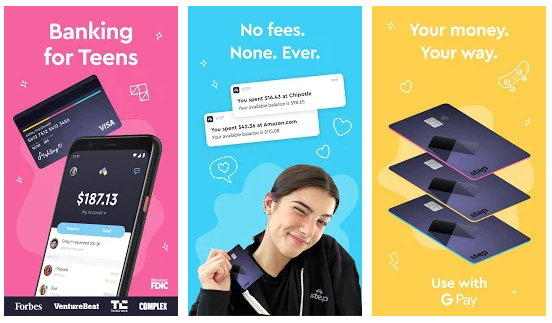 Features and Benefits
A feature that sets Step apart from other banking applications is that not only is it free, but you also get credited three dollars upon joining. The application's main selling point is that parents can create custodial banks for their teenagers, and use the money for personal needs as well.
Step is straightforward to use, and it provides teenagers with a taste of financial liberty. The app is also ideal since it doesn't have banking charges, and you don't have to spend much time with money transfers.
In addition to that, you will be creating a credit history by using their services, which may be convenient later on.
1. Generating Money By Referring People To Step
The Step Squad is a member-platform for users who have successfully gotten referrals. Rather than getting paid three dollars per referral, you get six dollars. However, there are specific requirements that you should meet for you to be a member of the step squad. They include:
You should make at least one transaction with your step card
You should have three successful referrals
Send one payment within the application
The primary purpose of this referral is to enhance the brand's user database. Additionally, the requirements are simple for those who would want to make money with the app.
2. Linking Your Google Pay To Your Step Card
When you finish setting up your step debit card, a button to link your Google Pay to your Step account will pop up, which will also be quick and easy.
3. How Does Step – Teen Banking Make Money?
Every time you purchase a product or service with your card, the bank that will get the money will charge the seller a tax for dealing out the payment. Step will earn a commission of that fee, allowing them not to charge you for the transaction. This process is referred to as 'interchange fees'.
4. Is the Step Card a Credit Card or a Debit Card?
The entity recently altered their services into a debit card. This is ideal since your child, and you can only use the money on the card. Additionally, this feature will prevent you from worrying about paying outstanding debts at the end of each month.
5. Are there any Limits?
Similar to other things, yes, this mobile app entails a transfer limit of one thousand dollars each day. In addition to that, you can only deposit a maximum of ten thousand dollars per day.
Pros & Cons
The Pros
Some of the benefits of this application include:
1. Improved money management
Step will allow you and your child to monitor how much you spend, follow a budget, balance a checkbook, and keep an eye on service and product purchases.
2. Enhancing credit
If the child learns to manage their credit card well, they will create credit from a young age.
3. Safety Features
Moving from one place to another with a significant amount of money can result in a miscalculated loss if your child loses their wallet. Having a credit card can prevent such a dreadful scenario from occurring. If the card is lost, and the matter is reported promptly, the teenager won't be held accountable in case someone attempts to make an unapproved purchase.
4. Enhanced Parental Control
This will allow you to set withdrawal limits.
Cons
Specific factors that may give you an unpleasant experience when using this application include:
1. State Restriction
Individual regions are prohibited to install the application, or access its services.
2. You are Prone to Overspending
Since parents are the co-signer of their teen's Step card, they are also held accountable if the spending exceeds the expected budget. When you get the card, it usually has a limit of two hundred and fifty dollars. Therefore, to avoid surprises, it would be best if you stay keen on the accounts activity.
3. Chance of an Overdraft
If your child is new to managing money, mistakes are inevitable. The child is likely to get an overdraft if they persistently make small purchases each day, which can result in an expensive consequence.
Should You Download the App?
Yes, you should download Step and try it out. The application is safe and easy to use. It also allows parents to teach their kids financial lessons gradually, and ways they can manage their money. However, before diving into the idea of getting the mobile app, be sure to weigh the pros and cons, to get a banking app that works best for both you and your teenager.