Earning cash back has never been easier than with the Swagbucks mobile app which gives you incredible opportunities with surveys, shopping, and advanced browsing! Right out of the gate you're rewarded with a 10 dollar welcome bonus to say thank you for joining and that's free money right there. Users have made millions collectively through this platform and you can join to make some extra bucks very easily for free. You can redeem your points for a multitude of gift cards from a selection of vendors with familiar brands.
This versatility means you'll have a much wider shopping range with more possibilities to get top products. You really can make money and obtain free gift cards from places like Walmart, Uber, Starbucks, and much more!
Swagbucks
Price: Free
Category: Lifestyle, Popular Now
Version: Varies by device
Developer: Prodege

Uninstall the app:
1. Go to Settings menu
2. Choose Apps or Application manager
3. Touch the app you want to remove
4. Press Uninstall.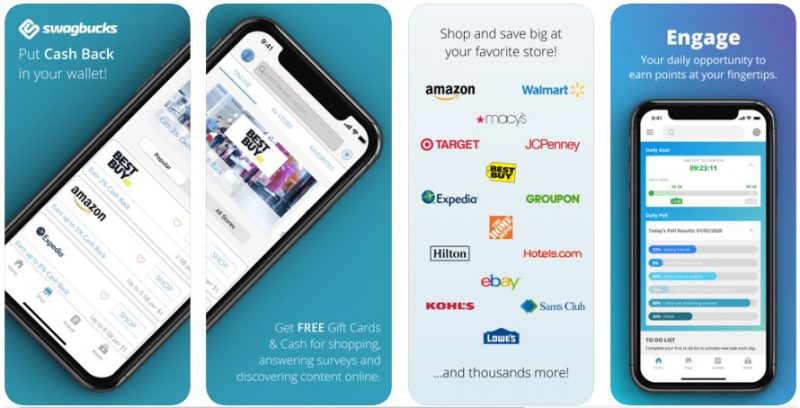 A unique benefit is that you can earn even more cashback by utilizing your balance to shop online instead of at the physical location. This ensures the maximum amount when capitalizing on cashback apps like this. Swagbucks is at the forefront of the industry with many wonderful surveys to complete if you're needing some extra cash.
You can choose to cash out early or save up for a large Paypal cashout. There is a multitude of apps out there where you can take paid surveys, but Swagbucks is the highest paying in the industry. You will earn extra money while taking these surveys and it won't take long to save up a decent amount. This is an excellent way to get rewarded for shopping and cashback means you feel less guilty about certain purchases. An interesting feature of this app is you can get even more back from your personal grocery receipts. Not only that, but you'll get some prestigious coupons that eliminate the need to cash in paper ones.
The Swagbucks app really does allow you to show off your swag at the grocery store or when purchasing anything online. This is essentially free money for simply scanning a bar code on your receipt and that adds up over time to a substantial amount in a year. Shopping online or in the store will both yield savings opportunities, but some coupons might be exclusive. Another great benefit to downloading and installing the Swagbucks mobile app is you will have a great tool for discovering new products and keeping up with the times. You might obtain some special release offers from new brands and even get some discounts or free samples.
Swagbucks empowers you with knowledge about making your shopping more pleasant and profitable. There are many opportunities for savings and cashback that most people are missing out on, but this app can enlighten you on the possibilities and realities of long-term savings. It's up to you how much is earned regarding the surveys and how often you spend money. A long day of surveys that are tailored to you can yield fruitful results, but sometimes there might not be some available.
One feature includes the ability to download and play the latest games for more earnings. Watching videos are also a possibility if you don't want to be extremely immersed in something. It all depends on your earning style, and this app gives you many options to choose from. Some people would rather complete surveys than games and that's fine. Try them all out to get a grip on things and then go from there to see which method is best for you. For example, if you're a gamer then you'll feel right at home receiving impressive cash payouts for playing certain games over time. this is a highly satisfying experience that doesn't feel like work to the seasoned gamer. If you're already watching movies then download and install this app to simply take a couple of hours away from your normal routine and invest it in watching videos to earn some extra dough!
There are a plethora of topics to explore that will keep you interested and engaged so things don't get boring. These aren't arduous tasks at all and can even be completed if you're under the legal age to work. This means you'll have some extra money and can get it through simply watching a series of videos. The benefits of supplemental income are numerous and you will enjoy the fruit of your labor with this app. You have to be diligent with endurance to see any real results, but with consistency, you'll have a lower-end gift card in no time to take the edge off shopping. It can be seen as magic money that grew on a tree and all you have to do is pluck it off by completing various media tasks. We live in an amazing time where money can be earned for the simplest things, and Swagbucks really shines as the leading app of the industry!
Pro's & Con's
Pros
Earn money from anywhere easily
Caters to all tastes by individualizing surveys
Keeps you entertained while earning
Cons
You may get tired and some eye strain
The scanner might not always work properly
A wide variety of gift cards might make it hard to choose
Conclusion
The Swagbucks mobile app is a tool that you shouldn't be caught without especially around the holiday season with so many spontaneous purchases. You will earn more around this time as more money is spent. This app will become cemented into your daily routine and the savings will increase because getting coupons is very easy.
The variety of gift cards including Paypal is an attractive feature that makes this app worth downloading. It's perfect if you want to supplement your current income and get an added bonus. The sky is the limit because there will always be new surveys to take, videos to watch, and games to play for the future! This is a sustainable platform that is trusted by many to make an extra buck!