It is official—most of the country has been isolating and social distancing for about four months now, and that shows no sign of stopping. Yes, some states have started to reopen but a handful of them have already decided to go back into lockdown. The economy may rebound, but there is the looming possibility of another recession. Health care guidance is ever-changing. The question of if offices and schools will reopen in the fall is still unknown. The same can be said of duration of the pandemic. There are any unknowns and much insecurity, both literally and figuratively.
Telegram
Price: Free
Category: Communication, Photos
Version: Varies by device
Developer: Telegram FZ-LLC

Uninstall the app:
1. Go to Settings menu
2. Choose Apps or Application manager
3. Touch the app you want to remove
4. Press Uninstall.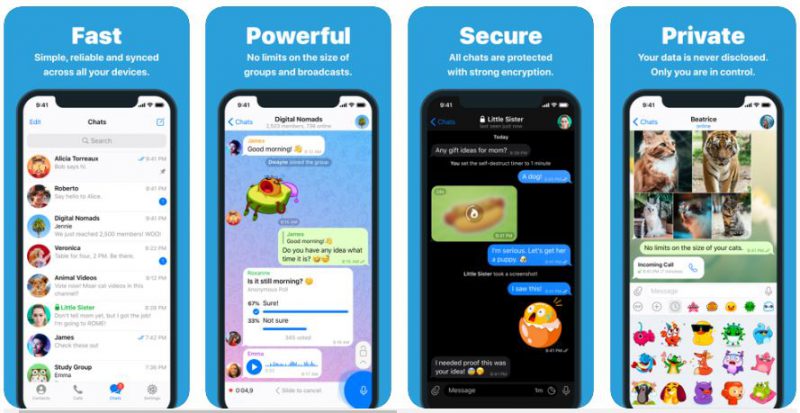 One aspect of life that has been completely upended is traditional social interaction. While barbecues, concerts, trips to the beach, summer Fridays, camps and weeks at summer homes or camping were mainstays of years past, this one is looking a lot different. No more dinner parties, friend trips or casual outings. Interactions happen from a distance, mostly via voice, text or video call, but it is not the same. A feeling of authentic communication lost, tech issues are abundant and most apps will only allow people to converse for so long. They may be good, in theory, but fail to come through on usefulness.

Still want to chat with your coworkers, friends, classmates, loved ones and community members, but put an end to things getting lost in translation? Give the Telegram app a look. We will break it down for you below so you can see if it is right for you and your network.

The Scoop on Telegram

Telegram is like instant messaging with an upgrade. It is simple, fast and secure and currently has over 400 million active users. Want to know why? Read on.

The Benefits of the App

With so many messaging apps out there, you may be wondering what is so great about Telegram.

Here is the rundown:

Fast Messaging: Since users are connected to worldwide data systems, they get messages faster, when they need them.

Synched Across Devices: Install Telegram to see messages across devices, and start typing in one place, while finishing it up in another. Maintain access to your data.

Unlimited File Send: Send media without type and size limits. Chat history does not take up disk space, and is securely stored in the cloud.

Peace of Mind: Security and ease of use area hallmarks of Telegram. Everything is encrypted, so rest assured when you use it.

Capable: Create group chats for up to 200,00 members, share videos, documents or set up bots. Use it for team collaboration and coordination.



Works with any Connection: The app works with even weak mobile connections.

Fun and Fresh: Take, edit and share photos, or pass along a sticker or GIF to keep things light.

Robust and Simple: A minimalist design makes Telegram simple to use and maneuver.

Free of Cost and Ads: No add selling or subscription fees here. Everything comes at no cost to you.

Download for Privacy: Telegram is private, safe and secure. Third parties do not have access to users' data.

Secret Chats: These self-destructing chats use end-to-end encryption, so they are only seen by recipients. Keep secrets, inside chats and other information private.



Our Review of the Telegram Mobile App

Want to access a multifaceted messaging app that will always be free? Download Telegram and get sending your network texts, stickers and more. Sure, it is not the same as binge watching sessions or Friday night dinners, but using it comes close. Get it and say you were using it before it took off. You will be glad you did!