If you're a fan of Minecraft and similar games, Terraria might be your next great obsession. Gamers know about the console version of this game, but there's a new app that's bound to fascinate you. Get to know the worlds of Terraria where you're in charge of crafting your character for ultimate victory.
Start by Customizing Your Character
Terraria really becomes your own world when you first download the app. Begin your adventure by customizing the character's gender, clothes and physical appearance. Give the character a name.
You're not done yet. You're also prompted to name the world that you're about to enter. This level of creativity makes Terraria a unique game from the very beginning. No other player will have the same world, character or gaming experience. Everything is random except for the items that you pick out as basic, character features.
Terraria
Price: 4.99
Category: Adventure
Version: Varies by device
Developer: 505 Games Srl

Uninstall the app:
1. Go to Settings menu
2. Choose Apps or Application manager
3. Touch the app you want to remove
4. Press Uninstall.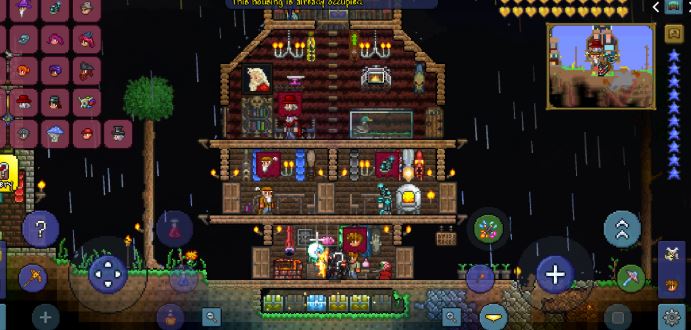 Explore the Primary World
Your new character will start out on the first level. As with most games, you have limited strength and power at this point. The initial goal is to simply strengthen your character. Practice mining and building something for protection. Remember that virtual monsters will appear at some point. You don't have the strength to truly fight them off. Defensive maneuvers are the best choices right now.
As you build up your strength, you'll be able to dig deeper and uncover more items. Continue to explore to enter subsequent levels.
Remember the Sandbox Concept
Terraria isn't a game with a linear pathway, such as older video games. The industry refers to this game as a sandbox type. It's designed with multiple levels with unlimited movement within each area. Take your time within each level. Uncovering as many items as possible is the goal. The best item to defeat a boss might be deeper than everything else.
The levels will change as you move in and out of them. Keep this in mind because it'll help with ultimate success.
Use Your Creativity Against the Bosses
The elegance of Terraria is built into its challenges. There's no exact strategy on how to remove a boss from power. You must rely on your skills and building creativity to construct something that can thwart the bosses.
Think carefully about the items that you've encountered. You may not know what the boss looks like right now, but meeting it will give you clues. It may be necessary to construct something after meeting the boss so that you have the right items for virtual success.
Repetition Isn't the Program
Games of the past used to be about memorization. You knew where every reward or hazard was after some practice. Terraria is different. After you install the app, you'll notice that each world is different every time. Every item is in a random location. The map's basic shape doesn't change, but you'll always have to search for items as you move through the various worlds.
For many gamers, this fact makes Terraria a challenge with each session. There's no boredom here.
Safe for Kids
Most apps have connections where you can chat or go online with other users. This basic app, however, only has locally based connections for multiplayer games. This fact means that kids can play with their friends, but no outsiders can connect with them.
Keep in mind that there's an alternative app for people who want these gaming connections. For safe and simple game play, this mobile app fulfills every need.
The more time that you spend with Terraria is when you'll reveal a lot more about the game. Continue to hunt, mine and build. The game continually evolves, so that there's never a dull moment.