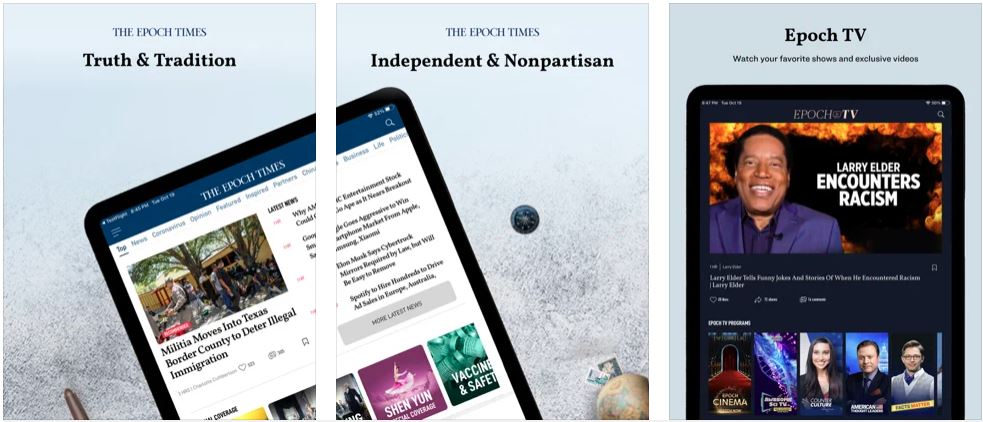 Are you a news enthusiast? Receive unbiased digital content on U.S politics, comprehensive coverage of China, and the world news in general as they stream in. Get in touch with hot commentaries, documentaries, and exclusive premium shows like Crossroads and Declassified. The Epoch Times serves you right on time, get instant access to breaking news, arts and culture, politics, world news, and much more. Wait… Epoch Times is absolutely a non-bias news app. Have a look. You will love it!
The Epoch Times: Breaking News
Price: Free
Category: News & Magazines
Version: Varies by device
Developer: Epoch Times Association Inc

Uninstall the app:
1. Go to Settings menu
2. Choose Apps or Application manager
3. Touch the app you want to remove
4. Press Uninstall.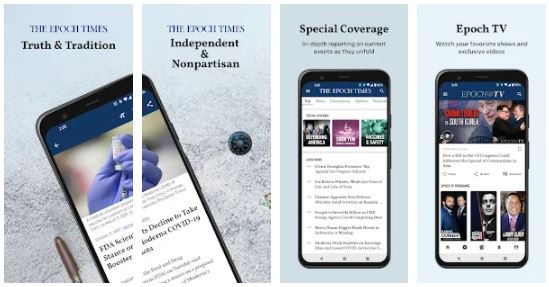 No truth can survive in a sea full of lies. 'Fake news" is all over but this is not the case with Epoch Times. Expect only good, clear, reflections of American life and American values. Breath in some fresh air as you read through rich content, with perfect organization. Imagine the feel of reading through the hottest topics and events in the US, China, and all over the world at your convenience. The App indeed makes the world a small global piece that gets your mind wrapped around all the latest breaking news alerts. It is the right fit for all your live stream notifications and gives you the chance to watch phenomenal live broadcasts in exclusive parts of the U.S and all over the world. It doesn't stop there, the App offers inspiration videos, and documentaries to keep you up and motivated all day.
If you are an avid reader, the rich features of the Epoch Times App award you the convenience of saving and sharing your articles on a variety of social media platforms like Twitter and Facebook. You can create your personalized list for saving your articles for easy reference. Make your reading experience refined and cozy as you discover the benefits of every feature on the app.
Features and Benefits
• Comprehensive coverage
The App will expose you to current informative and factual topics within the US, and around the world.
It also has a video section that covers a lot of original series, exclusive stories, documentaries as well as inspiring videos. The App provides a way for users to adjust the font size of the articles. They can as well save them in a customized reading list to read at their convenience.
Depending on your areas of interest, the detailed content covers social, political, and personal commentaries. The users always have a plethora of articles to read from. The subscription charges are not as high as the quality of good reads available for the users. Plus, users can share the content on various social media platforms of their choice.
The Epoch Times offers the live stream notification feature which gives a platform for live broadcasts that covers main events across the globe. For easy reading, users can adjust the font size of articles to a closer range.
Pros
It has reliable, informative news sources from diversified channels for both domestic and international news. The App content has no fluff and comes without bias, which makes it better than other msm outlets. If you are conscious about health, the App provides a fantastic health and wellness section. It also has an opinion section from the world's well-known commentators. There are also lots of movies, books, fun word searches, and inspirational videos, and sports news in the entertainment section.
• It is convenient as you can read at your schedule and pace for as long as you have the App.
• It has a plethora of spot-on articles which provides a lot of good reading.
• Get balanced information and news from professional journalists.
• The App has an exclusive customer care experience.
• Articles are recorded in a way that you can follow topic-related archived pieces easily.
• The App provides comprehensive details.
• It is easy to use.
• They produce news from an independent and conservative perspective
• It can be installed on android devices.
• It is easy to install and download.
• It has a free account option
• It allows third party apps while downloading
Cons
• Frequent cancelations of subscriptions (some users are not able to use subscriptions to completion)
• Some of the videos are not audible even when the phone volume is at its peak.
• Some articles disappear after downloading.
• The App limits stories that subscribers can read
• It limits the users to freely post their comments.
• Users cannot quickly access specific episodes upon request.
• It has a limited number of free stories, which users still pay for a subscription.
• It has lots of links to pay for the required news.
• It lacks an interface for skipping articles, so the users have to scroll through the whole publication
• It is full of pop –up advertisements
Conclusion
Finding the truth on social media is quite rare. There are lots of newspaper media outlets but what makes Epoch Times stand out is the high level of integrity and reliability when dispatching information. There's is nothing like "fake news". It's all free and fair. Many people have been manipulated and programed by the mainstream media, but, Epoch Times is the real thing. With monthly subscriptions of $10, expect the best sources for global and national news.
The Epoch Times App currently serves as America's fastest-growing independent news media. If you like true information free from bias and interference from any political affiliation, corporation, or government, this App is a safe landing. No more "fake news" the App separates facts from opinions delivering an accurate picture of reality that gives you the chance to rely on facts. The App is easy to use and a perfect fit for your wall-wall schedule now that many users rely on online news updates. Similar to the printed newspaper users, you need to pay for the content through the monthly subscription method of $10.

The App has easy-to-navigate features with appealing content which provides an exclusive reading experience. Irrespective of time and space, the Epoch Times App is the real offering as it brings you fresh and reliable news within your reach, it's easy and simple. Just download it and enjoy reading spot-on news from all parts of the world.