Tye Dye is such a fun app. It allows for originality and creativity all on your own smartphone. This app is entertaining and is something that can easily occupy a lot of your time. You can play this app on many devices. All you have to do is install it from your App/Play Store. The game is divided into different days, allowing for new surprises and features to be added into your game.
Tie Dye
Price: Free
Category: Casual
Version: Varies by device
Developer: Crazy Labs by TabTale

Uninstall the app:
1. Go to Settings menu
2. Choose Apps or Application manager
3. Touch the app you want to remove
4. Press Uninstall.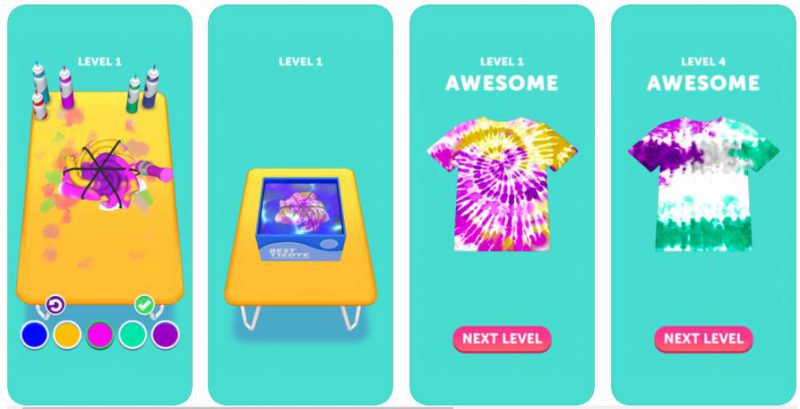 To begin a day, you click on a piece of clothing and begin the tye dyeing process. You first fold the clothes into a bundle. Afterwards, you tie the shirt up, so it remains in place. Then, you are given full artistic freedom as to where you place the colors on the folded up shirt. You then dip the item into a bucket of water, remove it, and untie in. You are then shown your wonderful final product. The main focus of this game, which is the tye dyeing, is very entertaining, but it does not end there. After tye dyeing your item, you are given a star rating for creativity, skills, and colors. You are given a score out of three stars. You also make money from each item you create, and you can unlock new items to tye dye as you keep playing.
There are different items including skirts, t shirts, dresses, and bathing suits. Throughout the game, you are dressing different girls in the clothes you create. You are told which colors to make the items of clothing in the corner of the screen when tye dyeing something. This is what will give you a star for the "colors" category. After making three or more items of clothing, your day is over. You are taken back to your home base, which includes beach scenery and your tye dye shop. As you make more money over the days, you can buy more things to decorate you shop and the area around it. These decorative items include new props, additions to your shop, and other decor, such as new clothing racks in your shop, new mannequins, and upgraded mirrors. You can also obtain new tools throughout the game, which will allow you to add different designs to your clothing items. As the game progresses, you are given more colors to add to clothing and more challenging tasks. You can also unlock different ways of tying the clothing items, which allows for different patterns to be created and more versatile pieces of clothing. You are also able to collect tips at the end of the day, which allow you to buy more items and upgrade your shop and scenery.
Conclusion
This app is very addicting and plenty entertaining. It is multi-faceted allowing for more than one thing to focus on. This prevents boredom and gives the user a constant new goal. These benefits give this app an advantage over other apps, which have minimal features and content. When looking for an app to buy on the App Store, you usually want something that is just mindless fun and something to keep you occupied. This app fully does the trick. As you continue playing, you are able to get more creative with the items you make, and you can see your shop and area come together. This provides excitement and something to work towards, which is needed in an app that you want to use long term. Overall, this app is really great. I've been using it frequently, and I've been having a lot of fun with it. The Tye Dye app allows for stress free fun. There is always something to do on it, and it will never leave you bored or disappointed. This app is great for all ages, young or old. It features characters with fun colored hair and different styles that can relate to all who play.