TMZ continues to be the main source of Hollywood's breaking stories, but you aren't limited to just the TV show. Branch out with the TMZ app on your smartphone today. There are countless numbers of stories, images and videos to brighten up your week.
Breaking News at Your Fingertips
The main reason to install the TMZ app is the breaking news. You'll know before everyone else that a certain celebrity is celebrated, hired or in trouble. TMZ is often the first news app to be on a celebrity story.
TMZ
Price: Free
Category: Entertainment, News & Magazines
Version: Varies by device
Developer: Warner Bros. International Enterprises

Uninstall the app:
1. Go to Settings menu
2. Choose Apps or Application manager
3. Touch the app you want to remove
4. Press Uninstall.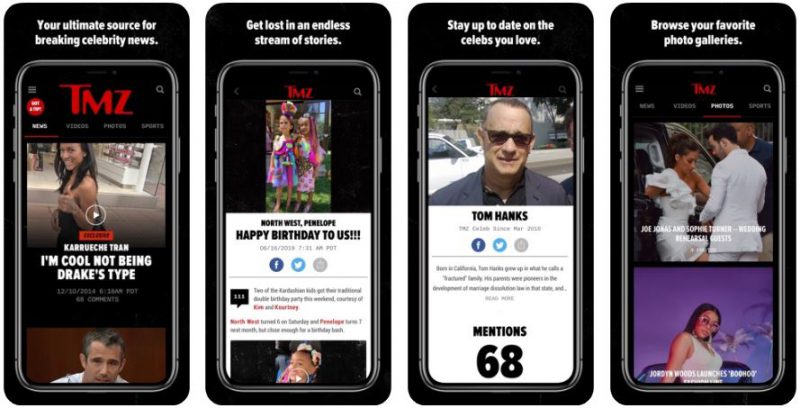 Sign up for notifications about your favorite celebrities. Your smartphone can ring when an interesting news piece pops up. Search for other news as you dive deeper into the app. Scroll down the news feed with easy-to-read captions and color photos.
Stream Full Episodes
A fantastic perk with this mobile app is its streaming capabilities. Pick a favorite episode and watch it in its entirety. You don't have to sift through clips or pay for a separate app. The episodes are listed with clear descriptions about their content.
Because each episode is less than 30 minutes each in most cases, you can watch them on the way to work or doing chores around the house. Being mobile allows you to keep up with all the late-breaking news.
Access Sports News
There's an entire section dedicated to the sports stars of the industry. Take a look at TMZ's Sports where you'll find stats, scores, photos and videos of the latest sports heroes. This section might be more popular than the celebrity side.
Sign up for notifications regarding sports scores or unique interest pieces. TMZ covers all of pop culture, from international soccer stars to NFL greats. Be the first to know about trades, drafts and other changes on your favorite teams too.
Photo Galleries Included
Seeing photos of your favorite celebrities is part of the fun on the TMZ app. They might be on the red carpet or just picking up lunch. All of these photos are quickly accessed on the app through the photo gallery. Scroll, filter and search for those coveted photos. You can always save a screenshot of your top celebrity. TMZ offers high-quality photos in every shot.
Cast Introductions
It's not just the celebrities that are popular today. You might be a fan of Harvey Levin and the rest of his investigative team. The app gives you a chance to learn all about the cast and their favorite encounters. Those impromptu meetups on the street are only possible when the cast has good questions and snappy answers.
In fact, knowing who works on the TMZ cast might help you recognize them on the street. Hollywood's celebrities are always moving around. The TMZ cast might be in your neighborhood one day.
Download the TMZ app today. It takes only a few seconds, and it offers so much Hollywood information at your fingertips. Keep up with your favorite celebrities at work, school or home. The TMZ app takes you there.