Hotels Flights Restaurants Attractions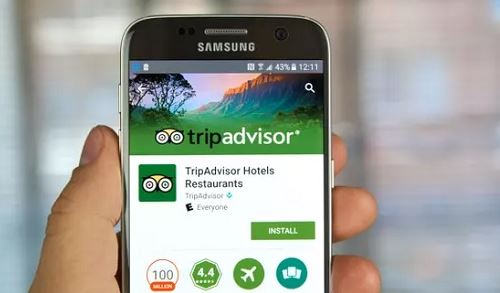 Gone are the days where a travel agent plans an itinerary for you on a customized vacation plan. Instead, trip aggregator apps make it possible to plan vacations with a little help from other travelers.
As a travel aggregator, TripAdvisor offers travelers a unique platform to voice their opinion. The app offers reviews and a pros and cons list of hotels and amenities, but it has expanded its reach. Now the app offers airline reviews, restaurants, activities, and even vacation rentals similar to Airbnb.
TripAdvisor
Price: Free
Category: Travel & Local
Version: Varies by device
Developer: TripAdvisor

Uninstall the app:
1. Go to Settings menu
2. Choose Apps or Application manager
3. Touch the app you want to remove
4. Press Uninstall.
The app features over 385 million reviews of 6.6 million places and attractions across the globe. The site makes most of its money by linking travelers to travel affiliates, earning a commission for each person they refer. Many of the cheapest rates in the app are offered through airline and hotel affiliate programs.
Anyone can leave a review of a restaurant, hotel, attraction, or other amenities. These reviews are aggregated to help travelers choose the best destinations to visit on their vacation. The variety of reviews on the TripAdvisor app help travelers make informed decisions.
Amenity owners can respond to any complaints aired in reviews to address issues that may arise. This open-air feedback helps travelers have a sense of transparency with business owners on the app.
One thing to note is that many dissatisfied reviewers may not indicate the place is terrible. Many people are only motivated to share their experiences online if they were negative, as a warning to others. That creates a bias toward reviews that may be negative in some way.
Planning a trip using the app
The TripAdvisor mobile app makes it possible to plan your entire trip using the site's database. The hotel popularity index ranks the top hotels in a given city by the number of bookings. The community is also very active. Members often answer questions that are posted to the forum in less than 24 hours.
The TripAdvisor app is available for free and can be a useful tool when planning any trip. Just be aware that the app can often feature rants and raves from unsatisfied people. The conflicting voices can make it hard to choose if you are the indecisive type.
One-star reviews are usually indicative of negative personal experience as a whole. If no other reviewers complain of the same problems, the issue may have been isolated. If the same problems pop up in multiple reviews, then the issue is likely something to take note of in your planning.
Why should you download TripAdvisor?
The TripAdvisor app is a valuable resource for planning any trip. Just be aware that most reviews should be taken with a grain of salt. You should download the mobile app as a gateway to more information about the planned stops for your vacation. Who knows, you may find a new place to add to the list as you browse.