For some people, tax season is a time of dread and despair. Others simply don't want to take the time to file their taxes. Regardless of the reason, no one enjoys tax season. Fortunately, you can make the entire process go a little smoother with TurboTax. In fact, TurboTax gives you the ability to file your return from your phone using TurboTax Tax Return App. Is this mobile app the easiest way to file your tax return? Find out in the review below.
TurboTax Tax Return App – Max Refund Guaranteed
Price: Free
Category: Finance
Version: Varies by device
Developer: Intuit Inc

Uninstall the app:
1. Go to Settings menu
2. Choose Apps or Application manager
3. Touch the app you want to remove
4. Press Uninstall.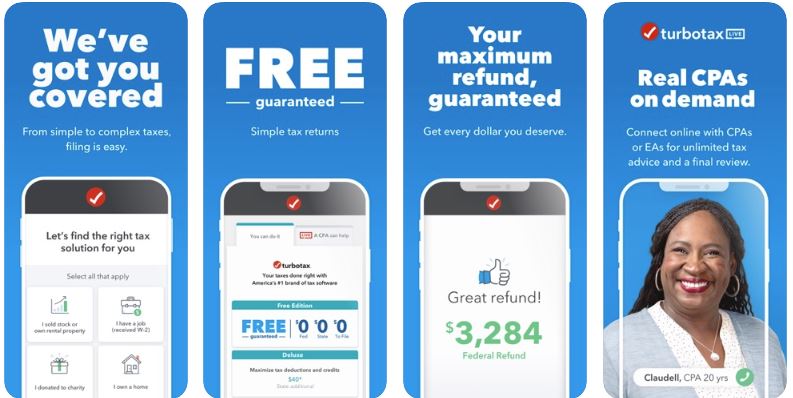 Taxes Made Simple on Your Phone
Believe it or not, your phone has all the tools that it needs to quickly file your tax return and get the maximum amount of money back. All that you need is an app that you can download to make use of these tools. TurboTax Tax Return App allows you to take photos of your 1099-MISC or W-2 using your phone's camera.
Using this app, you can also scan your ID to instantly upload information about yourself. With all of the information uploaded, all that you have to do is answer a few simple questions, and your taxes are done. You can rest assured that you're getting the maximum amount of money on your tax return.
Your phone is a tool for communicating, and TurboTax Tax Return App takes advantage of that as well. At any time, you can use your phone to contact a Certified Public Accountant or Enrolled Agent. The CPAs and EAs give you access to unlimited tax advice for free. You can even have them review your final tax return to check it for errors before you submit it.
On top of that, you can use your phone's touch sensor or face unlock ID to unlock this app. If your phone doesn't have one of these features, you can set a passcode or use your TurboTax login to access your information. This app puts the power in your hands.
Get Your Maximum Refund for Free
TurboTax Tax Return App isn't just great because it allows you to use your mobile device to do your taxes. It's also great because you can file your tax return for free if you're filing a Form 1040 without Schedule 1, 2 or 3. If so, it costs nothing to file both your state and federal taxes.
However, what if you have a more complicated tax situation? The good news is that you can start using TurboTax Tax Return App for free. You only have to pay when you go to file your taxes. You can even pay for TurboTax using the refund that you get from your federal return. According to TurboTax, the average refund that people receive is around $3,284.
Also, this app uses TurboTax's CompleteCheck, which reviews your tax forms before you submit them. This in-depth check ensures that you don't miss anything, including errors or money that you should get back.
Get Notifications on Your Phone
Another advantage of TurboTax Tax Return App is the push notifications that are sent directly to your phone. These make it easy to stay up to date with information regarding your tax return.
Try TurboTax Tax Return App Today
Tax season is here. If you haven't filed your forms yet, now is the perfect time to do so. Simply install TurboTax Tax Return App on your mobile device and let the program walk you through the entire process. It has never been easier to file your taxes.
Keep in mind that TurboTax Tax Return App offers add-ons, such as paying for TurboTax using your refund. These add-ons are an extra cost. However, you don't have to pay for them if you don't want to.