In the world of turn-by-turn road navigation apps, Waze and Google Maps are by far the dominant players. They used to be business competitors, until Google bought the former in 2013.
The Waze app, like Google Maps, provides detailed, street-level maps and best-routing algorithms based on real-time traffic and road conditions. Unlike its rival, however, it is unique in being more like a crowd-sourced social network, which is fueled by an enthusiastic community of users.
Users regularly contribute alerts to the app network whenever itinerary-altering events occur such as accidents, detours, closures or speed traps. Community input also affects the display of alternate routes based on real-life driving experiences and ratings. These can shave seconds or minutes off driving times.
Waze
Price: Free
Category: Auto & Vehicles, Maps and Navigation, Tools, Travel & Local
Version: Varies by device
Developer: Waze

Uninstall the app:
1. Go to Settings menu
2. Choose Apps or Application manager
3. Touch the app you want to remove
4. Press Uninstall.
Best App Features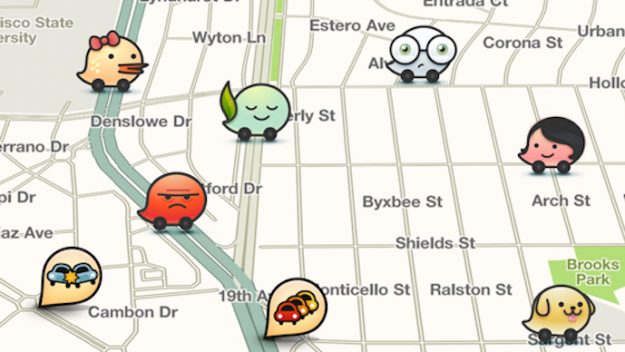 • Detailed street-level mapping with suggested routes and ETAs based on GPS location
• Real-time alerts from the Waze user community that let you avoid congestion or impediments
• Flags to let you know the location of coffee shops, restaurants, parking lots, etc.
• Alternate route suggestions based on real human input
• Color-coded congestion levels to help you avoid slowdowns
• Capability to offer ride shares to other app users via the Carpool applet
• Ability to share your current location with family or friends
• Voice control to enable hands-free navigation
• Displays the closest gas stations and per-gallon prices
• Alerts you if you are driving over the speed limit
• Traffic jam countdown that estimates when you get moving again
• Celebrity voice or your own voice for app audio directions
• Spotify integration for customized route playlists
Where the Waze App Shines
Both Waze and Maps will get you to your destination, but the former is more adept at detecting bottlenecks and suggesting alternate paths based on human feedback versus Maps' reliance on computing the best routes. This makes it ideal for intra- and inter-city commutes. Maps' weakness in this critical area is due to its more general-purpose nature, whereas the Waze app is super-focused on providing real-time info. It is also a great deal more fun than Google's mapping app as it enables a higher level of app personalization that lets you take ownership of how it works.
Making the Choice
You do not, of course, have to choose between the two. Probably you already have Google Maps on your Android or iOS phone, so just do a Waze download to try it out and compare. You may find that each has its place in helping your complete your daily or vacation journeys.