Finding medical information online is easier than ever, thanks to one trusted source – Web MD. Now the Web MD site is accessible in app form with plenty of local health information available.
Web MD is a popular online medical database that can help answer any medical question you have. Users can look up information about specific drugs, check their symptoms, and even learn first-aid essentials.
A local health listing on the site can connect its readers with medical professionals to answer their questions. The listings include physicians, hospitals, pharmacies, and mental health professionals within your city, state, or ZIP code.
WebMD: Check Symptoms, Find Doctors, & Rx Savings
Price: Free
Category: Health & Fitness, Medical
Version: Varies by device
Developer: WebMD, LLC

Uninstall the app:
1. Go to Settings menu
2. Choose Apps or Application manager
3. Touch the app you want to remove
4. Press Uninstall.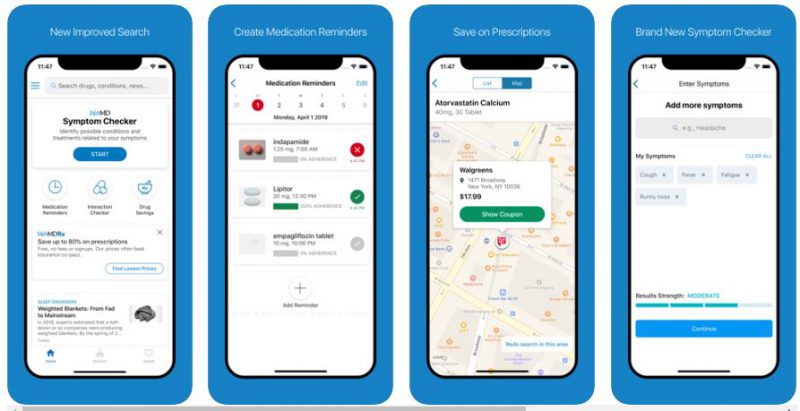 Another useful feature is the pill identification tool. Answering questions about a pill's shape or stamp can help you identify prescription drugs.
Web MD features medically reviewed information about conditions that can ail the human body. It will explain the causes of any potential sickness, treatments, and any related symptoms a user may experience. Symptom checker can help further identify issues that may be presenting.
Entering information in the app about your condition and the medication you take is helpful. The app even features a medication reminder feature, so you never miss a dose. The reminder can be set up at custom times, depending on your medication schedule. You can even change the tone to make sure the notification is heard.
The drug interaction checker can help you know if your medicine interacts badly with food. For example, grapefruit juice can severely impact how effective some medicines are. Grapefruit juice affects cholesterol, high blood pressure, and even some anti-anxiety medications. There are thousands of drug interactions that you can find for all medications you take.
Finally, Web MD is an excellent resource for learning about the side-effects of drugs, supplements, or vitamins. Warnings and side-effects are explained in clear language that is easy to understand.
Web MD Features
* Symptom checker
* Medically reviewed articles about conditions
* Understand treatments prescribed for conditions
* Helps understand side-effects and related symptoms
* Extensive database of drug, supplements, and vitamin information
* Learn first-aid essentials for a wide variety of ailments
* Pill identification tool for prescription drugs
* Local health listings by city, state, ZIP code

Web MD Pros & Cons
Pros:
* Easy to use symptom checker
* Pill identification tool is excellent
* Medically-reviewed articles are helpful
* Local health listings available
* Learn about your condition or its treatment
* Web MD Rx finds low-priced prescriptions
* Medication reminders for dosing
* Drug interaction checker

Cons:
* The app sometimes crashes
* Doesn't remember your last read article
Should I download and install Web MD?
Web MD is a great companion mobile app for anyone who manages a health condition. It can help you identify drug interactions with common foods and give medication reminders.
Web MD allows users to save information about their conditions, drugs, and doctors. The data is stored and may occasionally recommend news stories related to that information. All information published on Web MD is medically reviewed information about conditions.