It's always nice to have easy access to comic books, graphic novels or anything else that you like to read. Because of this, WEBTOON is a mobile app that seeks to bring tons of comic books straight to your phone. Are these comics worth your time to read or should you stick to physical copies instead?
WEBTOON
Price: Free
Category: Comics
Version: Varies by device
Developer: NAVER WEBTOON

Uninstall the app:
1. Go to Settings menu
2. Choose Apps or Application manager
3. Touch the app you want to remove
4. Press Uninstall.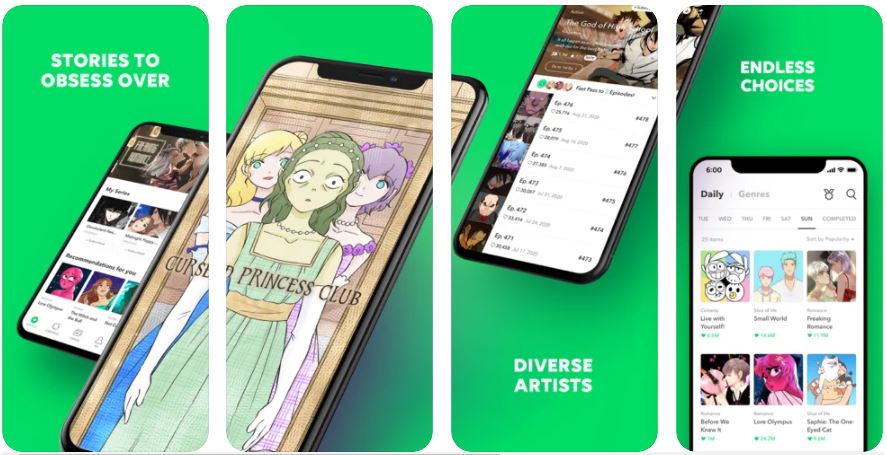 Features and Benefits
WEBTOON has many features that make it easy for you to navigate and find new series that will catch your interest. Let's talk about some of these points.
Finding Comics
When you first start up the app, it asks you to click on the genres that interest you the most. It offers multiple genres such as comedy, slice-of-life, superheroes, horror and many others. This means that you have plenty of options to find a comic or graphic novel in a genre that interests you.
After choosing genres, the app will have you look through different art styles to help you find some comics that you will like. From here, it will recommend different comics based on the styles and genres that you enjoy. This will allow you to jump right into a comic that interests you so you can start reading it.
Access and Subscribe
Each of the comics available through this app will allow you to subscribe, favorite and comment on them. This means that you can subscribe and receive notifications whenever new chapters come out, you can show your support through favoriting and you can leave comments to discuss those stories with others.
This makes it easy for you to find and look through your favorite stories on the platform. When you subscribe to a story, it will appear in the "My Series" tab so you can easily look through them. You can also use this to see the most recent stories you read and even access your unlocked chapters.
Access Any Series
WEBTOON has an interesting system where you can access any series to check it out and read through most of the chapters. While you'll have access to these chapters, some of the recent ones may be locked for the moment. However, you can pay to read them immediately. If you don't want to spend money, then you can wait for those chapters to become free.
You can look through all the various comics on the app to check them out for yourself. Since you don't have to pay for the first chapters, you can easily try them out for free to see if you like the series. In short, you get access to most series and a majority of their chapters without spending any money.
Pros
WEBTOON is a popular app because it provides multiple pros that people enjoy, so let's look through some of them.
Subscribe to Stories
You can easily subscribe to all of the stories that you want to purchase. The subscription system will notify you about changes and updates to the comics so you can view them on your own time. This will make it so you don't have to track all of the stories your read since you will receive notifications for updates.
Recommended Comics
WEBTOON also sends you recommended comics based on the previous stories you have read. This way, you can constantly get new comics to read if you went through all of your current subscriptions. This ensures that you continue to have new content to read without getting bored.
Look Through Genres
If you prefer any specific genres, or if you're in the mood for a specific type of story, then you can look through the genres available on the app. This allows you to click on the genre that you prefer and look into the stories that you think you'll enjoy. This way, you can have an easier time filtering through different graphic novels.
Download Chapters
Many people struggle with their online comic book reading because they need to have an internet connection to use it. However, WEBTOON allows you to download different chapters so you can read them on an airplane or whenever you don't have a connection. You can even get those comics in bulk to read an entire series on your phone.
Fan Translations
Some of the comics available on WEBTOON are in different languages, but you can access fan translations of them. This way, you can enjoy stories from other countries without needing to learn those languages. This makes WEBTOON stand out from other comic-based apps since people can translate and share comics from around the world.
Cons
Remember that every app has some cons, so we would like to mention them so you can decide if you want to download WEBTOON.
Waiting for New Chapters
WEBTOON doesn't make new chapters immediately available to readers. Instead, you can't read those chapters unless you use their FastPass feature to gain early access to them. Otherwise, you have to wait about a month to read those specific chapters, so you may need to wait for the new chapters of your favorite series.
Coin System
WEBTOON has a system where you can get access to chapters early, but it comes at a price. You need to purchase coins to read those chapters early, though some of them can be as expensive as a dollar. On top of this, there's no subscription service, so you need to keep spending money if you want to stay up-to-date with your favorite comics.
No Age Rating System
WEBTOON doesn't offer a rating system, so you can't allow your kids to use it whenever they want. You can easily come across content with explicit language, graphic violence and other content that may be inappropriate for children. So if you're concerned about this type of content, then you should consider this point if you want to use WEBTOON.
Conclusion
WEBTOON stands out since it provides so much easy access to many comics and graphic novels created by lesser-known artists. This app gives them the chance to show off their abilities while making it easy for you to find new and exciting stories. We recommend WEBTOON, so you should install it onto your phone and check it out