Chances are high that this is a year of saving for you. Maybe it is for a car, a trip, a home or just to have additional funds in case something arises or catches your interest. Alongside saving, maybe the investing side of things has also caught your interest, maybe even trading. If that is the case, look into a mobile app that can help you out.
Webull: Investing & Trading helps you take charge of your financial life simply and efficiently, a must for those like yourself with busy lives. Read on in our review to see what it has to offer and whether or not it is worth a download.
Webull: Investing & Trading. All Commission Free
Price: Free
Category: Finance, Popular Now
Version: Varies by device
Developer: Webull Technologies Limited

Uninstall the app:
1. Go to Settings menu
2. Choose Apps or Application manager
3. Touch the app you want to remove
4. Press Uninstall.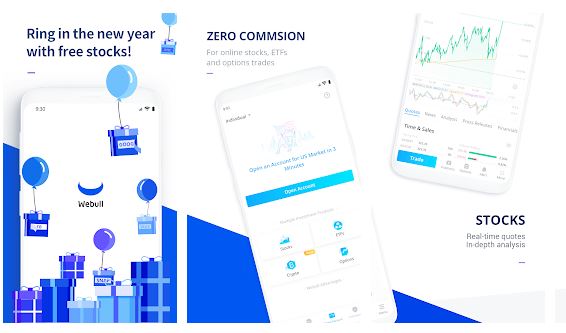 Features and benefits
Webull: Investing & Trading offers many things to make finances a breeze, including:
Promotions: Free stocks was one in the past, that will likely pop up again.
Zero commission: For certain types of transactions.
Real-time information: Have the tools to make decisions fast
And more!
On top of all this, what could be better than being well prepared for the future? The more you learn about finances and the importance of saving now, the better equipped you will be later.
Pros and Cons
Now, what are some pros and cons of Webull: Investing & Trading?
Pros
No commission: For trades, ETFs and online stocks.
Analysis: See real-time in-depth analysis for stocks.
$0 contract or assignment fees: Want options? Get options.
Trade when you want: Do what works best for you.
Build you skills: Increase your knowledge of financial business.
Increase your confidence: Maybe you will make a bigger investment once time goes on!
Help from financial advisors: Learn from the experts, as well as other people who are interested in investing.
Cryptos: Start trading with just $1, whenever the time is right for you.
Refer a friend: If you successfully get a friend to install and sign up for Webull: Investing & Trading's services, get two free stocks per friend.
Trade with instant settlement: Always have access to your funds.
No minimum deposit requirements for IRAs and accounts: Start from scratch.
Insights, charts and indicators: Get the knowledge you need to make the best possible decisions.
24/7 trading: Trade cryptocurrencies day and night.
NASDAQ TotalView access: Get three months for free.
Voice commands: Look up options by price, and take action to buy, sell or trade using just your voice.
Pre-market and post-market trading conditions: Trade early or later.
Stock screener: Analyze which are worth jumping on, and which might be better to skip.
Paper trading: Try before you buy.
Cons
Bug-ridden: Current Webull: Investing & Trading users say that this app is not immune to glitches, freezing and slow loading.
Not fast: Give it some time.
Unsettled funds: It can be hard to tell where these stand.
Hard to get help: Customer service can be almost impossible to reach.
Conclusion
Webull: Investing & Trading is worth a download if you are really intent on evaluating and diving into the world of finances via mobile. For those who would prefer something simpler, there are better apps out there, but this one is good if you already have a slight basic understanding of money, saving and investing.