Golf is widely enjoyed as one of the most strategic yet relaxing sports on the globe, but busy schedules and inclement weather can keep you from enjoying the game in the fresh air. WGT Golf by WGT mobile app studios is one of the most realistic options in the Google Play Store, and you won't have to spend a dime to enjoy the game.
WGT Golf
Price: Free
Category: Sports
Version: Varies by device
Developer: WGT

Uninstall the app:
1. Go to Settings menu
2. Choose Apps or Application manager
3. Touch the app you want to remove
4. Press Uninstall.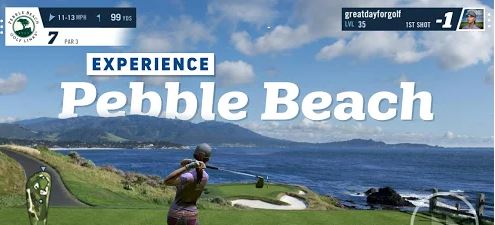 So many golfing games have cartoony graphics or unrealistic courses that make it difficult to enjoy the game for serious players. If you're looking for a more life-like experience with a golfing match, WGT Golf is one of the better options available.
Unlike many other golfing games, you'll choose a male or female avatar and customize them from head to toe. With realistic character movements, environmental changes, and stunning courses to play on, WGT Golf offers an engaging and immersive experience for players who love the sport.
Select World Famous Courses
Rather than choose random animated courses you're unfamiliar with, WGT Golf provides over 15 well-known courses, including beauties like Wolf Creek and Pebble Beach, to name a few.
The stunning graphics and attention to detail give players the feeling of really driving and putting on the green of some of the most popular courses of all time. Rather than dream of what it would be like to play on your favorite course, download WGT Golf to experience the area without ever having to spend a dime, or leave your couch.
Earn Currency
Much like the pros, the more you play WGT Golf, the more currency you will earn for spending in the games pro shop. Each round you win will earn more coins and other in-game money, but you can also log in daily to receive an award just for playing the game.
Shop Popular Brands
It's not always feasible to purchase expensive sporting equipment when you have bills to pay, but owning coveted golf equipment can be a reality for gamers who play WGT Golf.
As you earn currency through matches, tournaments, and completing tasks, you'll gain access to various items in the pro shop, like clubs, tees, clothing, and more from brands like Rogue, Callaway, TaylorMade, and many more.
When you purchase new clubs in the shop, you'll notice an overall improvement in your game as your avatar upgrades its equipment. Some clubs may help with wind resistance, while others are known for their power in driving a ball down the course with ease.
Utilize your currency wisely to ensure your avatar has the most updated equipment for their level, providing a win in matches against lesser prepared players.
Participate in Events
It can become mundane to play the same courses and games over with friends, so WGT Golf has included several unique game modes to keep the excitement alive.
Join in on tournaments to earn coins to spend in the pro shop, or work toward unique gifts you won't find elsewhere in the game. Install WGT Golf to enjoy events like head to head, solo stroke play CTTH, and showdown. Don't forget to invite your friends to amplify the fun!
Join A Country Club
Like golfers in real life, you'll have access to a registry of country clubs you can sign up to find other players. You can use this portion of the game to make new friends, ask for tips on the game, battle people head-to-head in matches, and much more.
Joining an in-game country club also gives you an advantage when it comes to different events because you can call on the help of your club mates to help you achieve goals and earn points toward upgrades in the game.
You can also invite your friends to join a country club you've made by reaching out to them through several social media channels or shooting them a text invite.
Play Top Golf
When you need a break from the sometimes mundane driving and putting on a professional green, take your skills to the mat at Top Golf and see how many balls you can sink into the awaiting colored circles out on the recessed green.
Like the game at Top Golf locations around the country, you'll have to strategize your shots perfectly to earn more points than your friends by the end of the game. The more balls you can drive into the nets, the more points you'll receive toward the win!
Install WGT Golf to get your fix without spending any money to go to the country club or leave the comfort of your home for a hot day of golfing in the sun. Invite friends through social media to make the experience all the more exciting and challenge them to head-to-head matches that will reveal once and for all who the superior golfer is in the group.