Learning to draw means practicing your technique over and over. But many artists suffer from drawing blocks the same way a writer may suffer a writer's block. The What to Draw? app solves that problem by providing users with a new, randomized drawing topic each day.
What to Draw? is an app for artists who struggle with ideas for what to draw. The best way to hone your artistic craft is by practicing it every day. What to Draw? facilitates that by generating a new drawing topic from a variety of themes. Themes like medieval fantasy, horror, space, western, and more give a wide variety of drawing topics.
What to Draw?
Price: Free
Category: Puzzle
Version: Varies by device
Developer: Llamaze Code

Uninstall the app:
1. Go to Settings menu
2. Choose Apps or Application manager
3. Touch the app you want to remove
4. Press Uninstall.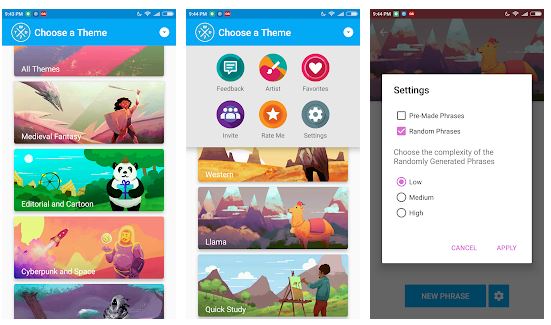 The What to Draw? app can also generate suggestions based on keyword input. For example, searching for the word 'genie' might generate the phrase, "A dwarf anti-paladin, wearing a magical armor, protecting a genie." That phrase gives artists the scope of the picture and leaves it up to them to decide how it turns out.
What to Draw? is a great way to find inspiration to practice drawing. If you love the phrase the app generated, you can tap the heart icon to save it. If you don't like the phrase the app generates, tap the 'New Phrase' button to generate another prompt.
You'll also encounter repeat phrases the more you use the app. Developers seed each theme with specific phrases that may repeat as you continually generate new drawing ideas. Seeing the phrase "wearing shining armor" may get old after you generate it a few hundred times.
Overall, the app is great for generating new ideas to prevent a drawing block. For people who want to hone their craft by practicing each day with a new topic, What to Draw? is a godsend. You can treat the app like a drawing assignment from a class and give it your best effort to improve your craft each day. The sheer amount of free themes in the app means you'll generate plenty of drawing ideas before feeling like you should pay something.
What to Draw? Features
* Input keywords for drawing suggestions
* Built-in drawing topics to choose from
* Pre-made phrases and suggestions
* Save favorite prompts for later drawing sessions
* App dark theme for night-time drawing
* Multiple language support
* Free and paid theme updates
The What to Draw? app is completely free to download and use. However, the developer does offer some in-app purchases that include additional drawing themes. The app is regularly updated with new free and paid theme topics.
Some examples of themes that cost money in the app include 'Warfare' and 'Ancient Egyptian Mythology.' These new themes can be purchased for $0.99 per theme, or as part of a bundle that includes several themes as one purchase.
The only real downside of using What to Draw? is that paid themes are often mixed in with free themes. While scrolling through the drawing themes, you'll often see a 'buy' button. Each theme is pretty cheap, but you can't preview some of the phrases included before purchase.
What to Draw? Pros & Cons
Pros:
* Huge variety of drawing themes available
* Generate your own drawing ideas with seed keywords
* Save your favorite prompts to draw later
* Regular updates include new drawing themes
* Includes varying difficulty settings for artists of all levels
Cons:
* The app's design doesn't feel modern
* Some categories only have a handful of topics
* Some users report experiencing crashes on tablets
* Paid themes mixed in with free themes
* Phrases often repeat while auto-generating ideas
Should I download and install What to Draw?
What to Draw? is a great mobile app to help get the creative juices flowing. If you enjoy drawing but struggle to come up with ideas for what to draw, this app may be for you.
The free drawing themes are robust enough to get started. If you like the inspiration you get while using the app, the paid themes are a great way to support the app and its developer. New phrases and themes are added to the app at regular intervals, making it ideal for fresh inspiration.