If you are looking for a more thoughtful, relaxing way to kill some time on your Android or iOS device, a download of Word Villas might just be the prescription for you. This game presents an interesting mix between a life and home simulator juxtaposed with challenging word puzzles. Yes, it seems a bit odd at first, but why not install it and see what that is all about in this colorful, free app.
The backdrop for the Word Villas Puzzle and Story mobile app is that you wanted a vacation far from the city in a place called Orange Town. It is a multiplayer adventure in that you can collaborate with your friends and family to build an oceanside holiday resort to match your dreams. You will design your own dream home, experience the thrill of new love and a heart-rending breakup.
Word Villas
Price: Free
Category: Puzzle
Version: Varies by device
Developer: Betta Games

Uninstall the app:
1. Go to Settings menu
2. Choose Apps or Application manager
3. Touch the app you want to remove
4. Press Uninstall.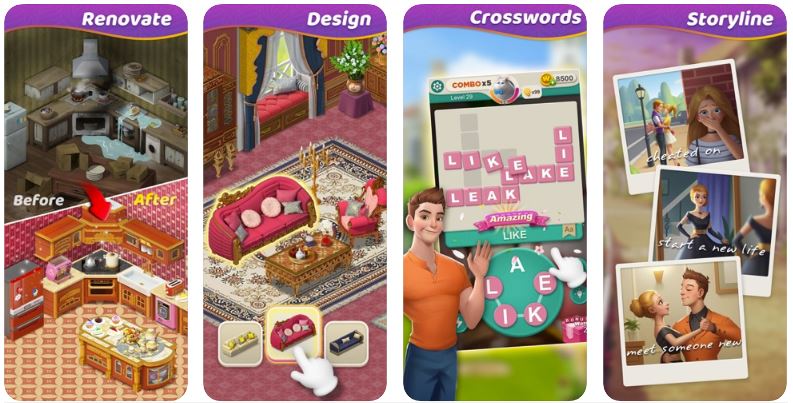 This all brings you back to your childhood home, where you take on the task of saving it from its rundown condition. It is in shockingly appalling condition. At each step of the way, you are presented with increasingly difficult word games. These are what gain you points, power-ups and new levels.
Eventually, you will create your dream home, build a resort business and find new love.

Game Features and Activities
Renovating villas – Various neglected home interiors are presented for you to refurbish. As you finish a room, new rooms become available for your skills in choosing just the right décor.

Detailed interior design – Literally everything you need to decorate is at your fingertips including furniture, rugs, wall coverings, lamps and more.

Play crosswords – Horizontal and vertical word-scramble puzzles, including super-difficult levels, await you at every turn and allow you to collect power-ups and credits along the way.

Storylines – You can choose from various interactive storylines such as Start a New Life, Meet Someone New, Is He Cheating on Me?

Town Life – The town has many new people for you to discover and befriend. There are over 30 NPCs waiting for you to discover them in fact. These include possible romantic partners such as the Beach Boy, Gentleman or the Boy Next Door.

Build a Tourist Business – Ample choices of tourist souvenirs, room displays and mystery items can be used to build an attractive tourist store.

Cheats – There are hints but not actual cheats within the game. However, for better or worse, there are tons of cheats online outside the game. These are invaluable in helping you get over the most difficult puzzles as your move up levels.

The App Store version of Word Villas Puzzle and Story is compatible with iOS 9.0 or up and works on just about any iPhone, iPad, etc. you can think of. The Android game requires version 4.4 or higher. Happily, both game instantiations are free. As is almost always the case, the Android version takes up about one-quarter the space as the iOS version, which needs 190 MB of free storage. The only in-app purchases available are to buy coins if you really get stuck points-wise. The per-coin price is pretty much identical regardless of how big a batch you buy.