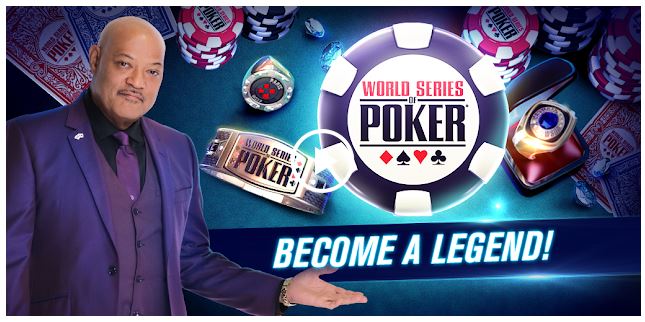 Poker is a game that most people have played at some point with cards, but this mobile app experience transcends the past. There are some innovative qualities about the WSOP Poker Games mobile app that fans of the classic staple will find appealing for the long term. The obvious first benefit to this is you are able to effectively take the game anywhere through a mobile platform which means you won't have to clean up the mess. Not only that, but here you are able to become a poker superstar and forge a name for yourself through devoted play.
There are many possibilities for growth in the game which translates to the real world if you ever decide to try out a live tournament. This is a convenient tool for novices who want a taste of the professional poker life where they can thrive without any commitment or risk.
WSOP – Poker Games Online
Price: Free
Category: Card
Version: Varies by device
Developer: Playtika LTD

Uninstall the app:
1. Go to Settings menu
2. Choose Apps or Application manager
3. Touch the app you want to remove
4. Press Uninstall.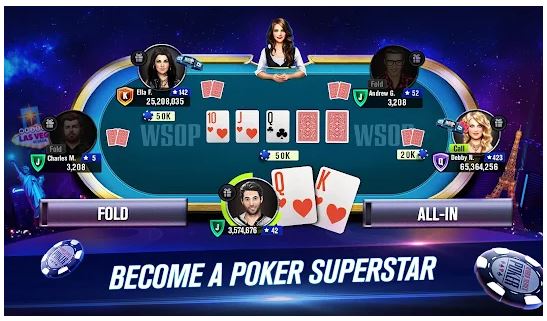 Here you will compete in many different virtual tournaments that are designed to improve your skills and give a rewarding gameplay experience. There is nothing better than actual practice to enhance your outlook and make the wisest decisions. One great feature included here is the addition of pro tips to help you improve beyond what you thought possible. Some players tend to stagnate in skill which is why you need extra tips from the pros to increase your poker wit. This poker app stays true to the original game and gives you a realistic approach that is addicting and beneficial.
There are different dealers who will teach you about the game as well. Build up your collection of bracelets from winning tournaments and this will increase prestige. Once you become a legend in the poker world then perhaps it's time to test your skills against other unique game modes you've never played before with different rules. Texas Roulette and Caribbean hold'em are a couple of cool options to try out for a fresh game of poker! One of the most notable benefits of downloading the WSOP Poker app is attaining the substantial welcome bonus that gets players started!
You can get 1 million chips free when you simply download and install the app. There are also many other perks awaiting diligent and successful players. If you decide to take this poker journey, it's important to understand it will be a challenge while progressing. Poker is a game of the mind and you have to know the odds to make sound judgments on each hand. The best way to get better at poker is to play with the best right out of the gate! This poker app gives you the ability to assess potential real-life poker hands and act accordingly through expert advice. Each player has their own individual album, and there are many challenges within to complete while trouncing the competition. This app even takes it a step further through an educational system known as the WSOP poker academy! Here you will learn about the plethora of tactics used by the best, and it only takes practice to implement them in your game. Soon it will become habitual for you to make the right decisions and this is very fulfilling.
With Poker, there is always room for improvement, and developing self-control goes a long way. You'll learn what not to do from poker players who have made those same mistakes in the past. No victory is a guarantee, but having fun definitely is. You can play this wonderful classic anywhere, and now it comes with enhanced features like completing your own specific quests that give a personalized approach. There are many seasonal opportunities here that include gifts and wonderful surprises to keep you entertained and satiated. Poker is a game that will never die as long as humans walk the Earth because it is ingrained in our DNA at this point.
Now you can carry it with you anywhere on your smartphone to access and practice during downtime. Poker, like most games, was crafted to pass the time and the mobile format gives you more consistent practice! As you play through the game, this will unlock different levels of the Academy so you learn the information at a steady pace. This is important so you don't jump ahead and it always keeps you wondering what useful tips are next. Additional free chips are available with opportunities regularly. For example, if you connect the account to Facebook then that's 250k chips in your pocket for free. Playing with friends online is also possible here so you can practice and enjoy hands together. Guest mode allows players to join the server anonymously to play some simple games without worrying about statistics.
Pro's & Con's
Pros
Play poker anywhere
Benefits of advanced training and tips
Compete in thrilling tournaments
Cons
Might be a learning curve
Could crash at times
Festering with Micro transactions
Conclusion
Like many mobile poker games, you should expect to endure advertising and them trying to upsell you. If you can stomach this consistently, then the overall game is very fun for professional and casual players. Here you have the ability to explore the world of Poker in a new light with fun challenges and an emphasis on personal growth. Executing the right decisions can be a challenge, but the WSOP Poker App keeps you confident in any hand. It's an excellent tool for improvement and to gather perspective on your poker intuition.
What it comes down to is a few core decisions that are all featured here, and advice will help things run smoothly! Download and install the WSOP Poker app today and get a more profound result. This game is perfect for simulating the social dynamics of poker, and you'll feel like it's a real teacher instructing you. It's a great game if you're trying to improve or simply have some fun and pass the time!