If there is one thing for certain about most teens and young adults, it is that they love to chat and stay connected. What was once saved for classroom conversations and the reason why landlines were busy late at night has evolved into Tick Tockers going viral overnight, YouTubers having more influence than mainstream celebrities and trends evolving from apps (VSCO girls, anyone?). Social media is more popular than ever, things are done just for the 'gram and connectivity is constant, with smartphones and video chats gaining traction.
While trends may come and go, the need to communicate has not. Especially in current times, this age group has especially struggled with having to keep distance from peers, not seeing them every day, having to cancel trips and parties and missing out on major milestones, from graduations to weddings. Thankfully, Yalla - Free Voice Chat Rooms is here to combat that problem, and bring a little more communication and togetherness back for a group who has had to miss out on so much. Find out why you, or the young person in your life, needs to install it.
Yalla – Free Voice Chat Rooms
Price: Free
Category: Entertainment
Version: Varies by device
Developer: Yalla Technology FZ-LLC

Uninstall the app:
1. Go to Settings menu
2. Choose Apps or Application manager
3. Touch the app you want to remove
4. Press Uninstall.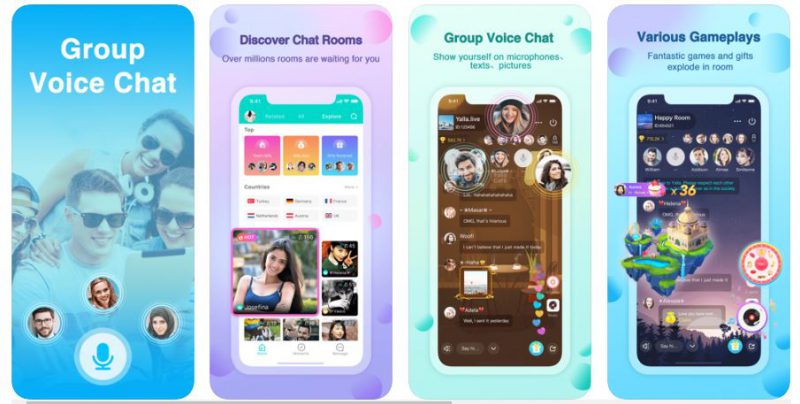 Yalla - Free Voice Chat Rooms makes it simple to meet new people and have fun. It is equally a live chat and entertainment community. Play and chat with people near you or around the world. Pretty cool, right?

The App's Benefits

Yalla - Free Voice Chat Rooms is everything a young person could want—and more! Here is why:

Make new friends: Choose from thousands of group chat rooms, based on countries and topics. Users can find their people easily, since the topics and live rooms are exponential in number daily.

No need to keep Distance: Party with friends, have a dance party, celebrate birthdays or just hang out. Keep it varied and tap into your competitive side with a range of games offered within the group chat feature. Stay safe and have fun!

It is Free: Participate in live voice chat over 3G, 4G, LTE or Wi-Fi at no cost.

Keep it Private: Send texts to or converse with only one person, no matter where you are.

Play Games: Users can add some variety into conversations by playing games.

Get Gifting: Thanks to virtual gifts, show your circle how much you love and care for them, today or any day.



Share and Follow Your Favorites: Rooms can be shared on social media to invite friends and followers to join in the conversations.

Go Premium: Yalla Premium gives users monthly badges and other privileges. Level up to move up within Yalla faster than ever before, and get the chance to show others your status. This is a paid subscription service that is easy and fast to sign up for.



Use Your Voice: The Yalla - Free Voice Chat Rooms team welcomes user feedback about the app experience via email.

Our Review of the Yalla - Free Voice Chat Rooms Mobile App

Yalla - Free Voice Chat Rooms is colorful, fun, fresh and trendy, which is a young person's dream. Since it helps people stay safe while enjoying time with friends new and old, we could not recommend that you download this app enough. Get chatting the safe way. Use Yalla. Be well, and show your friends you care. What could get better than that?